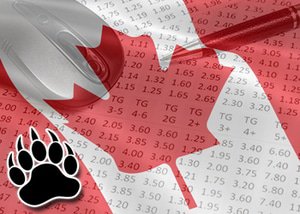 Sports betting's fate will be decided upon this month as Canadian lawmakers vote for the bill to be amended in order to allow single game wagering. It's Canada's sports betting's hope that bill C-221 will be amended to the scheduled date set for the 21st of September when the House of Commons will decide whether the bill needs to be forwarded to the Human Rights and Committee of Justice for more deliberation or rejection altogether. As this a federally introduced bill, the legal aspect is different to that of one provincially introduced. To learn more about the legal side of gaming provincially, you can view more here.
If the C-221 project is successfully referred it could be in a decent position of altogether passing the house and moving straight to the Senate that has blocked all prior attempts regarding sports wagering legalization. Still, if the C-221 bill is not forwarded to the committee of Justice it will eventually die and delay the legalization process of sports betting for several more years.
National Crime Code Would Be Amended By C-221
Known as the Regulated Sports Betting and safe Act, New Democratic Party member MP Brain Masse, introduced the bill earlier in 2016. It repeals a part of the criminal law as to enable the conduct of lottery schemes in Canadian provinces that involve single sports events, racing as well as fighting or athletic contest. In Brain Masse's constituency of Windsor Bill C-221 is strongly supported, while the State Senator in Michigan, Mike Kowall has submitted a bill recently to introduce online gambling regulated by the state. Prime Minister Justin Trudeau's election last year as the Minister For Justice, MP Casey announced that the government was not supporting the bill.
In Windsor, there is the Caesars Casino, and President Matt Marchand is in favor of the bill and believes that it would provide much-needed support to the local economy. Canadian casinos stand a chance to enjoy an advantage over rivals in Ohio and Michigan if they could offer Canadians a sports betting service. What also counts in favor of the bill is that Marchand further believes that an additional one hundred jobs would be created with legal betting if the Caesars Casino was allowed to offer it to players and potentially, even more, employment opportunities could grow from it, although currently members of the house are still divided over bill C-221.