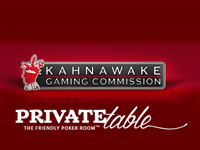 In an interesting move, the Kahnawake Gaming Commission is co-regulating a poker site in California operated by a San Diego County tribe.
The general idea is that the Iipay Nation of Santa Ysabel has launched PrivateTable.com, an online poker site for players inside of the state of California, for real money play. The tribe has its own regulatory body, the Santa Ysabel Gaming Commission, but they will also be assisted by the Kahnawake Gaming Commission, a Canadian based company, because of their much higher level of experience. This will lead to some of its structure being hosted by and controlled by the KGC, and the two groups have come to an agreement over how this will be accomplished.
The software used for Private Table is the same used on the Winning Poker Network. Also known as WPN for short, this network includes popular sites like Americas Cardroom. This software is provided by IG Soft/Dobrosoft, and it includes several options that are popular in online poker right now. If you're familiar with the current games on the Internet, then you can rest assured that these games will hold up in terms of features and the technology used to give you plenty of options to customize your experience.
A particularly interesting feature of this site is how they are handling deposits and withdrawals. Deposits have to be made from inside the state of California since people have to be physically located inside of the state to play real money games, though free money games are available from just about anywhere in the world. Withdrawals, however, can be initiated from anywhere in the world. Something else that's really cool about this setup is that deposits and withdrawals can both be processed in person at the Ipay Nation of Santa Ysabel smoke shop.
The Kahnawake Gaming Commission involvement in this venture is also pretty interesting because of the way they are partnering with the Santa Ysabel Gaming Commission. It's smart for the SYGC to look for outside help with something that has the potential to be very big in the state of California, and it's a statement about how influential the KGC is that they were who the SYGC looked to partner with. Overall, we will just have to wait and see if this venture gets off of the ground for the long run.