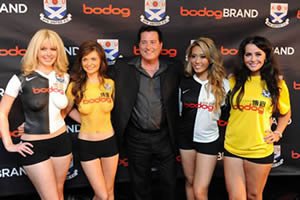 Violating the Wire Act from 2005 to 2012 is the main thing that has Calvin Arye possibly facing extradition to the United States soon.
Calvin Arye is known for being the creator of the Bodog brand, and he's always been a bit outspoken when it comes to US politics despite being from Canada. Now he's the target of a federal prosecutor from Maryland who is looking to have him extradited to the United States for charges of violating the Wire Act and of related money laundering activities.
The Wire Act was originally a bill put in place in the 1960s to help prosecutors go after mafia sports betting operations that used telephone lines to place bets. In modern terms, it's been used as an excuse to go after just about any type of betting, though a fairly recent DOJ ruling stated that it does not apply to anything but sports betting. Whether or not it's right, the law still stands, and this is why Arye is facing these charges for accepting sports bets between 2005 and 2012 via the Internet.
He was indicted back in 2012 for these charges. A few other Canadians were also indicted including Derrick Maloney who is a media buyer, James Philip who is an accountant and David Ferguson who was the eCommerce Chief for Bodog. Overall, all of these indictments have to do with Bodog operations.
It's really unlikely that Arye is extradited any time soon, if ever. He lives in Antigua, and they do not have a treaty for extradition with the United States. In fact, they're in a massive dispute with the United States over destroying their own online gambling operations, so it's unlikely that they'll get anywhere on that particular front. Calvin Arye, in typical fashion, is making is pretty well-known that he's not in hiding and that he's not a hard man to find. Along these lines, prosecutors have acknowledged how unlikely it is to get Arye on US soil to arrest him, so they have suggested themselves that the case be put on hold until some unknown point in the future. We're sure that US taxpayers are thrilled with the efficient use of government revenues over all of this.