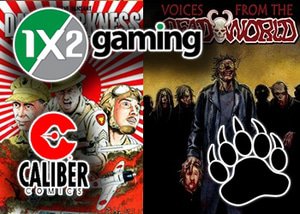 Games based around comics are always popular, and four new Caliber Comics online slots are coming up soon thanks to a new deal with 1x2Gaming.
UK online casino games developer 1x2Gaming has made a lot of moves over the past 18 months, and a new one shows that they aren't done with their expansion. A recent deal shows that they are going to be producing Caliber Comics online slots for the rest of the year, and then there's potential for more games moving into 2016. A total of at least four games will be coming this year, according to released details about this agreement.
The First of the Caliber Comics Online Slots
The first new slot to be created by 1x2Gaming as a result of this deal is Deadworld. More than 100 comic books and graphic novels have been developed for this story, and it began back in 1987 with its zombie theme. It seems like a good choice because the zombie apocalypse theme is pretty big right now with tons of television shows, movies and video games being based around the concept. From there, they will also produce Justice Machine (Mark Ellis), Sherlock Holmes (a Caliber adaptation) and Legend Lore for this year.
The Move to Comics
Comics have always been popular brands for online casino software companies to work with. Both CryptoLogic and Playtech have series of games based on the Marvel Comics heroes, themes and characters, and plenty of other comic characters have been used as well. With a ton of comic-based movies really being the center of film releases for the past few years, a move towards this sector of the market makes sense on a larger level as well.
Caliber Comics has produced a total of over 1,400 comics and graphic novels. Though they stopped publishing in 2000, they made a comeback in 2014 with a focus on releasing collection-type material that had already been released in comic format, and they're also focusing on graphic novels. It's this narrow focus that they believe will help them to see success, and this deal with 1x2Gaming is definitely not going to hurt the situation.