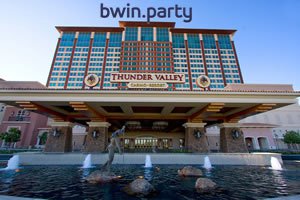 Moving forward sometimes leads to interesting deals that will benefit both partners, such is the case for Bwin.Party and Thunder Valley Casino Resort.
Bwin.Party Digital Entertainment, best known for their social casino games offerings has signed a deal with the California based Thunder Valley Casino Resort to incorporate real world offerings into their digital world. This partnership has the branding and loyalty programs of the California United Auburn Indian Community owned casino resort and hotel moving into a specially designed cross-platform section of Bwin.Party's online gaming structure. A clever move overall considering that the state is likely to move towards a more internet gambling friendly position with the introduction of regulations for the industry, setting those in place up for big gains in the real money online casino business.
This new venture is more than an attempt to increase traffic and income as the Thunder Valley Casino Resort has a robust charity program in effect that helps people in the area. At current, approximately $1 million in profit per year goes to various charitable locations such as international aide for relief projects and for those that help non-profits right at home in Placer County. This has been increased since the Thunder Valley Casino expanded, becoming an impressive and luxurious 17 storey resort and hotel, in 2010, a long shot from their start in 2003.
There will be an increased number of games based on the real slot machines that the Casino offers as well as giving the chance to win loyalty points which can be redeemed for prizes from the council run casino that benefits the Maidu and Miwuk tribes in the Sacramento Valley area. This means that online gamblers could find themselves with free stays and meals at the hotels and restaurants run by the Thunder Valley Casino as well as credit for the gift shops and even free tokens for playing games in their brick and mortar site. Add to this that those who go to the physical resort and casino to redeem their points will be able to continue to earn loyalty points for further freebies and it's looking like all wins for the customer.
The new digital casino offerings, referred to as "Slot Craze" games, are slated to begin rolling out throughout 2014 and be completely operational by the close of the year. These games will feature influence and branding from the real world casino, giving players not only new games to indulge in but also a taste of what's in store when they go redeem their points in person. Win Interactive, backed financially by Bwin.Party, will be producing the games to be played across the Facebook platform for computer players as well as those who choose to play on Android or iOS devices.