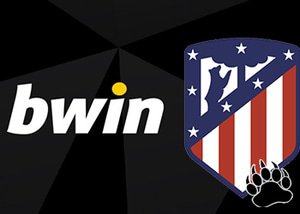 Bwin continues to expand on its football marketing campaign by extending its partnership with the current UEFA Europa League winners, Atlético Madrid.
The renewed agreement between Atlético Madrid and Bwin means that the partnership will last for at least two more seasons, stretching through to 2020. The renowned online betting brand retains its status as Atlético Madrid's official online betting and gaming partner, as it takes full advantage of advertising opportunities by placing their brand on several digital boards situated in the Wanda Metropolitano stadium.
Since it was initially formed in February 2017, the partnership between Atlético Madrid and Bwin casino and sportsbook has flourished thanks to the two forces working together on several constructive marketing initiatives. One initiative that truly stands out is the "Who Stole the Cup" marketing campaign launched by Bwin ahead of the 2018 World Cup.
Who Stole the Cup Promotion
Bwin recently launched it's innovative "Who Stole the Cup" campaign featuring a Hollywood-style heist, a rather fitting follow up to "The Race" campaign launched in 2016. The latest ground-breaking campaign invites consumers to LIVE THE ACTION by placing a bet on the outcome of the ad.
The short film features football legends Diego Maradona, Stefan Effenberg, Vicente del Bosque, and Cafu as criminals, each representing their own country while plotting to steal the famous World Cup. While other betting brands will ask consumers to place a bet on the outcome of all matches in June, Bwin kicks things off in by asking consumers which football legend committed the crime through a heist extravaganza.
"Who Stole the Cup" is a scratch card promotion running from May 28 to June 13 and players will be required to opt into the promotion. Every player will receive 1 free daily click card with a guaranteed prize. The prizes are completely random and include free bets, cash prizes, deposit bonuses, no deposit casino bonuses, casino free spin offers, deposit free spin offers, and bet and get bonuses. The casino bonuses can be claimed through Bwin Party casino software.
Maradona's Millions
Apart from the innovative TV campaign, Bwin also launched an exclusive Maradona's Millions promotion, allowing players to win their share of $5,000,00 during the 2018 World Cup. If you consider yourself to be a football genius, this is the perfect promotion to test your knowledge and skills.
Participants will be required to correctly predict all 31 outcomes during the World Cup, and entry into this promotion only requires a single deposit with Bwin. Participants are allowed to change their predictions as many times as they like up until June 14 when the first game kicks off between Saudi Arabia and Russia.
The prize pool for Maradona's Millions is a whopping $5,000,000 for predicting all 31 outcomes correctly and in the event that there are no winners, Bwin also has a Last Man Standing promotion with a prize pool worth $25,000. Should there be multiple winners in the Maradona's Millions promotion, the prize pool will be shared equally among the winners. It's also worth mentioning that no prizes will be awarded if nobody makes it past the group stages of the tournament.