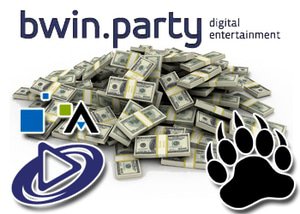 GVC and Amaya have offered $1.7 billion in cash and stock as they compete against 888 Holdings for Bwin.Party.
Different online gambling companies are bought, solid and absorbed on a regular basis. Bwin.Party is in the middle of this type of business right now with a major competition up between a combination of GVC/Amaya and 888 Holdings. The point here is that Bwin.Party is a very valuable brand, and each of these two groups would love to be in control. The end result is a massive bidding war that has gotten to the ten-figure level so far.
The Larger Rival
The fact of the matter is that 888 Holdings is larger than GVC, and that's why the latter needed to team up with the Amaya Gaming Group to have the capital needed to put in a competitive bid. GVC is worth about $440 million with 888 Holdings at around $947 million. Comparatively, Amaya blows them both out of the water at $3.6 billion, but all three are very large companies beyond the shadow of the doubt. The only issue is how operations will be split up if GVC/Amaya are to win.
Previous Examples
There's an example in the not-so-distant past of a situation like this. Back in 2013, GVC joined with William Hill to take over Sportingbet. The way the company was broken up was that William Hill was given the Spanish and Australian parts of the company while GVC was given everything else. We'll have to wait and see if GVC/Amaya win this bidding war to see how they will split things up or what other kind of deal can be made.
The Thread of the Larger Bid
Because of the relative sizes of these companies, 888 Holdings is in a particularly difficult situation. No matter what they bid, Amaya could easily come over the top of them to put up more funds considering they could buy 888 multiple times over at their current market value. Whether or not Amaya decides to do this is anyone's guess at this point, and we'll have to wait to see what happens before anyone knows for sure.