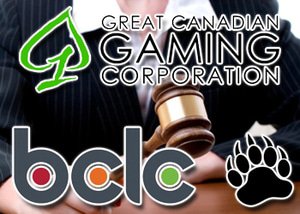 It has just been announced that one of British Columbia's largest casino entities Great Canadian Gaming are to sue the British Columbia Lottery Corporation (BCLC) for an estimated $18 million.
The suit was filed in the Supreme Court of British Columbia by Great Canadian Casinos Inc., and they stated that after having agreed to cease collecting money from British Columbia's casinos , the BCLC has taken no steps to stop, and has continued to collect the money.
The lawsuit states that the BCLC do not have any legal or contractual entitlement to any of the money that has been collected, and they have either neglected or refused to put an end to it, and carried on collecting.
Back in 2009 according to Great Canadian Casinos Inc., the BCLC agreed that "there are no further requirements for Great Canadian Casinos Inc. to make contributions", that is contributions to the trust that was set up to promote socially responsible casino gambling.
However Great Canadian claim that even after sending the letter of termination, the BCLC made no effort to stop, and instead continued to collect casino revenues, to the tune of 0.6 percent.
$18 Million Collected By The BCLC - From 2009-2015
After repeated requests made to stop the collection of the money went ignored, Great Canadian Casinos were left with little option other than to file a suit so as to request that the BCLC cease their regular collections and payback the $18 million that has already been collected from between 2009 and 2015.
Great Canadian Casinos pointed out that the particular trust mentioned was no longer in operation and had actually been closed since 2009. This being the case the BCLC had no right to pursue the constant collection of the funds.
It will be interesting to see how matters proceed especially in the light that the British Columbia Lottery Corporation is entrusted by British Columbia's Ministry of Finance to oversee all casino activities in the province. They are in effect an agent for the provincial government for all matters that are related to gambling activities in British Columbia.
No dates have as yet been set aside for the hearing to take place.