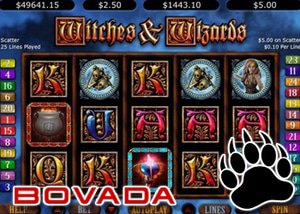 A new player at Bovada takes a great $136K win from the Witches & Wizards video slot machine. An amazing way to be welcomed to a casino on a Tuesday!
A player named Leonardo from Florida started out his gambling career at Bovada with one of their casino exclusive slot machines, Witches and Wizards and after only three spins, found himself looting more than $136,000. This hit was on the game's progressive jackpot, giving him the payout and confirming that his crystal ball showed him the right slot to spin.
Progressive Jackpot Has grown To Over $10,000!
Although this slot is a great game in it's own right, it has been flying under the radar as huge names in unique and licensed slots have overshadowed it but now it's back on the radar. A progressive jackpot win is a magical way to start the week and this one has already reseeded and grown back over $10,000, ready for the next adventurous player to tackle the fantasy world full of spells and mythical creatures.
Wave your wand and point your staff, and head over to Bovada to take your chance at fame and fortune by following the secret paths through sharp graphics and a soundtrack to set the tone in this fantasy world. When the sky burns red with the magical powers of witches, they bring gold dust to add bonus score multipliers. The wizard charges his staff and releases energy to create exploding Wilds, increasing the chances of hitting winning combos.
Bovada.lv is the American brand coming from Canadian online casino giant Bodog