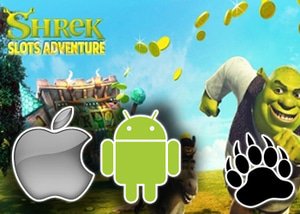 Bonanza Media have launched a brand new free-to-play mobile slots game for all iOS and Android devices.
Players can now join Shrek and his friends in Shrek Slots Adventure. This is a free mobile slots games that can be enjoyed on the iPhone, iPad, iPod Touch, as well as Android mobiles and tablets. This casino game sees players travel through Far Far Away as Shrek spins the reels of enchanted slot machines. As you play you get to earn coins, hit jackpots, play some fun mini games and rescue Donkey, Princess Fiona, Puss In Boots, and many more of your beloved characters.
The Shrek Slots Adventure debuts with a number of new features that we haven't seen before and Bonanza Media really have done a great job with this title. The games comes with a brand new Shrek storyline that reveals the secret to a mysterious curse that has taken hold of Far Far Away. The game itself uses on the finest graphics and animations to make everything come to life and features all your favourite characters from the Shrek movies. There are over 80 themed levels to be enjoyed on this 5 reel, 5 row machine and there is also a fabulous Change Your Luck feature that uses potions from Fairy Godmother's Potion Factory to help alter the outcome of your spins. That's not all, in this free-to-play mobile slots game, Bonanza Media are actually offering players rewards for their gameplay. You can earn discounts from a variety of Bonanza Media partners, restaurants, retailers and more.
In a recent statement released by Bonanza Media said, "Our game has authentic slots mechanics for core social casino players intertwined with an all-new Shrek storyline, plus an opportunity to earn real-life rewards through the Bonanza Rewards Program." Chris Hewish, CEO of Bonanza Media also said that they were inspired by the timeless themes and characters from the Shrek movies and they wanted to create a unique experience for their social casino fans. They used cutting edge graphics and a lot of in game surprises and they are confident that this new title really does take mobile slots gaming to a new level.
It is important to note that Shrek Slots Adventure has been created for mature audiences and is a free slots game only. It does not offer any real money gambling features, or the opportunity to win real money through gameplay.