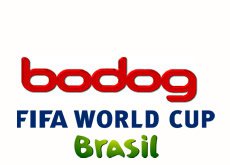 Huge sporting events are great times for online casinos, like Bodog, to seize the fever that these games generate and draw in new and seasoned players.
This summer sees the coming together of many of the world's favourite pastime being played on the world scale. The start of the NFL season, two major golf tournaments, the World Series of Poker, Wimbledon, and, of course, the World Cup. Starting June 12th in Rio de Janeiro, Brazil, the World Cup sees the best teams in the most popular sport in the world facing off for the honour of taking home the prestigious win.
In order to keep up with the increase that this brings in online gambling traffic, both to sport themed slots as well as many sportsbooks and other betting games, Bodog Casino has brought on a crew of big names in the world of gaming IT. This team of all stars will hopefully set the huge casino up for success and keep their site and functions running quickly and efficiently for the increased strain their servers will be under.
Of the new hires and the strategy behind their on-boarding, the Chief Technology Officer for Bodog, Stefan Matthews, has said, "The enormity of this Summer has been well-documented but the key to making this season a real success is holding on to those players long-term. To that end we wanted to bolster our team for the near and far terms and I am confident these guys will help us do just that."
To name just a few of the strong technology minded people coming aboard, Clive Hibberd, Simon Tarling, and Tom Hamilton will be coming to the Bodog locker room, as it were. Hibberd, the new Head of Product Development in the sports category has a strong background in games development, online payment processing, and systems that handle high transaction rates. Tarling brings six years withAmaya, Wagerlogic, and LVS along with 24 further years in the IT field to his new Program Delivery Manager role. Hamilton will serve as the Global Director of Architecture, leveraging experience in gaming with IG Index as well as a working history with banks such as Deutsche Bank and JP Morgan.
With these new hires bolstering their overall ability, Bodog Casino stands to gain in a big way from the huge summer for online gaming in Canada that this is projected to be. The World Cup kicks off mere hours from now with Brazil and Croatia going head to head on the global stage and the betting pools for the games to come starting to become ever more interesting for online gamblers.