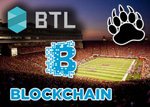 Whether you are ready for it or not, Blockchain is coming to fantasy sports, and sports betting in Canada is about to change.
Canadian blockchain solutions provider BTL Group has teamed up with games developer Fantasy 6 Sports to develop a suite of blockchain services that will target fantasy sports companies.
The plan is to develop a proprietary platform that will be called SecurePlay. According to the company executives, SecurePlay will address the need for trust and transparency in the fantasy sports market.
In a statement they said, "SecurePlay will be the first of its kind to leverage blockchain technology and smart contracts in ways which will transform how games, contests, and transactions are conducted and carried out in the fantasy sports industry." They also went on to say that, "SecurePlay is already being used by Fantasy 6-owned social sports data platform FanUnite.com to ensure data integrity in their $100,000,000 Pick 'Em Challenge."
According to Shafin Diamond Tejani, chairman and CEO of Fantasy 6, "The partnership for this sports betting Canada project will be focused on the implementation of blockchain technology in fantasy sports, beginning with security and transparency. We see nothing but a very high ceiling for the results of our collaboration with BTL."
Bitcoin Fantasy Sports?
Bitcoin enthusiasts may soon be able to use their digital currency holdings to fund their futures trading accounts. This comes after Singapore-based boutique brokerage house Straits Financial LLC partnered with payment processor BitPay and digital bank WB21 to enable bitcoin deposits.
Under this new partnership, users can use bitcoin to fund their WB21 accounts, which, in turn, will send the WB21 money to their Straits trading accounts.
Straits Financial President, Joseph Mazurek, said, "BitPay and WB21 will help customers to easily convert their bitcoin holdings into currencies that can be used to fund their futures trading accounts and will provide the bitcoin community with easier access to an alternative suite of investment options."
It's not bitcoin fantasy sports but if the partnership between Blockchain and BTL is successful we could very well see digital currency being used for more than just fantasy sports and it comes become another method for sports betting in Canada too.