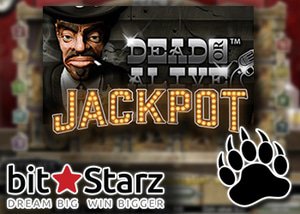 Lucrative win at Bitstarz Casino as a lucky punter takes down Net Entertainment' s popular Wild West themed slot Dead or Alive!
Earlier this week a punter strike it lucky with a massive $85,942 won on the Dead or Alive Slot powered by software providers NetEnt at Bitstarz Casino. The player strike gold by landing two separate big wins in an hour! This is a money-spinning reward for less than a few minutes of work. Similar to an old west shoot out, the fortunate punter trotted into town and took on the greatest challenge only to gallop off into the sunset as a legend.
The Marketing Manager of BitStarz, Srdjan Kapor stated the following: "This particular slot is a favourite among "Old Timers" in the casino, and is notorious for big wins with a low stake. Very happy to see that this player was able to win big, twice in a row, and I'm thrilled to see how far he can go!".
About Dead Or Alive Slot
Dead or Alive is a video slot game designed for those of us who enjoyed the old Western movies. Set in the world of cowboys, sheriffs and outlaws, the entire vibe of this game will take you back a few hundred years through history into a much simpler time when the bald European explorers dared make the first steps into the American west.
The slot is designed as a 5 Reel video slot with 9 paylines, with the best paying symbols all motivated by the wild west iconic images such as sheriff's star, a cowboy's gun, spurred boots and hats. There is no progressive jackpot in this one, so you will be playing straight up, spin by spin, hoping to catch the bonus feature.
The big wins in Dead or Alive come from either getting lots of Wild symbols in normal spins or finally triggering the Free Spins feature which awards players 12 to 29 Free Spins with all wins doubled. What's more, Wild symbols become sticky during the Free Spins, meaning they will keep their place throughout the spins, which can lead to potentially huge paydays.
In the Meantime...
Slot Dead or Alive is as unpredictable as a raging bull, and it's one of those conventional online slots that will either reward players with quite a generous amount of dinero, or nothing what so ever. Well, this specific punter at BitStarz got to experience the first mentioned scenario as he first hit a 3,639x multiplier and then a 2,500x multiplier in a short period of an hour. However, this is not the first time that this slot is paying out big at BitStars. Previously one fortunate punter collected a $21,266 payout in a single spin. Nevertheless, don't assume that it can't award a lucrative payout twice in a short time, as again, the winner of this week managed to land two massive wins in an hour!
In other words, if you want to try to hit that mega payout with a relatively small wager, this is the slot game for you. It's time to saddle up, grab your 6-shooter, and see if your casino balance will be "Dead or Alive" when you're done with it!
Receive 100% up to $400 at BitStarz Casino
As a recommended online betting review site we encourage you to check out Bitstarz Casino, our number one choice for real money Canadian punters. All new players signing up can grab hold of an exciting welcome package consisting of $400 or 1 BTC. The deposit bonuses go up with each deposit you make. When you make your first deposit you get 100% up to $120 or 0.3 BTC. Be sure to keep an eye on the promotions page of the website so you don't miss out on exciting deals.
It's time to saddle up, grab your 6-shooter and try your luck on slot "Dead or Alive" at BitStarz. It could be you riding off into the sunset a legend.