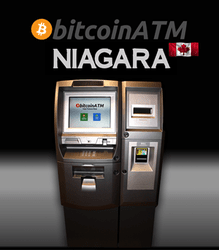 Recent news at Casino Niagara could be a step forward towards having Bitcoin accepted in the online casino environment.
Since it first started becoming well-known on a global level, people have been wondering what uses Bitcoin could have for online gambling. Because of its anonymous nature and the security benefits, there have been a lot of ideas on what its role could be. Although some online casinos have actually sprung up accepting the digital currency, its volatile nature combined with how relatively difficult it is to get has created a situation where few (if any) of the major sites have looked into accepting it.
CAVIRTEX is known as the top place for Canadians to buy and sell Bitcoin, and they have been hard at work trying to make it as easy as possible for people to get these transactions going. Along these lines, they have initiated a roll-out of Bitcoin ATMs, and one of those is being placed in Casino Niagara. A total of six units have been initially put into high-traffic areas with more coming during the next stage of the roll-out, but the placement at Casino Niagara is pretty interesting.
Known for being the very first land-based casino built in Niagara, there are more than 10,000 square meters of entertainment space, so it goes without saying that this place is a major attraction. And now people have the ability to buy and sell Bitcoin at this establishment in person. Not only is this a big step forward for Bitcoin, but it also helps to show that there is a natural connection between gambling and Bitcoin, and it could help to bring attention to online casinos who might have been hesitant to accept Bitcoin in the past.
The push to have Bitcoin accepted in online casinos is not unique. Some land-based casinos have looked into accepting the digital currency in some form, but none of note have acted on it. The high volatility of the virtual currency is one main reason why it's so difficult to use in that capacity, but it's also designed to be used primarily online, so transactions for chips could be tricky at best at times. Overall, we'll just have to wait and see what happens with the relationship between Bitcoin and gambling.