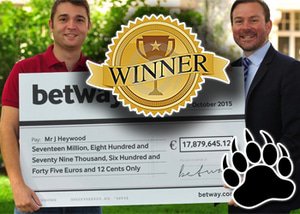 We've been watching and waiting for the biggest online casino jackpot in history to trigger, patiently but with huge anticipation and the question on everyone's lips was 'when, where, how much and who'... Finally, we have the answer!
On October 7, at Betway casino, the Monstrous Mega Moolah jackpot paid out the biggest lump sum in the history of virtual gambling, with £13,213,838.68 (over 25 million CAD) bagged by the 26 year old British soldier, Jonathon Heywood from Cheshire! How did he win the Mega Moolah progressive slots jackpot? By placing a simple 25p wager!
"Family comes first"...
When asked what he intends to spend the money on, Mr. Heywood replied "The first thing I will spend it on is the best possible medical treatment for my dad. That's more important than anything. Family comes first and I'd give all this money back for him to be healthy again." Of course, after seeing your bank account swell by an 8-figure sum, treating yourself to something special is well deserved and Jonathan intends on buying his dream car - a yellow Bentley Continental GT!
Microgaming CEO, Roger Raatgever, "Overjoyed"
Microgaming CEO, Roger Raatgever, was just as thrilled as he stated in an interview on Sunday following the big payout. "I'm absolutely overjoyed that our software has generated the world's largest ever online jackpot win". He also went on to congratulating Mr. Heywood on his life-changing historic win.
Microgaming has the longest-standing progressive jackpot network, with the first internet progressive jackpot launched in 1998. To date, the jackpot network has paid out well over half a billion dollars.
The Previous Biggest Mega Moolah Jackpot Payout
The stretch between the previous record payout and the latest win was the longest ever recorded on Mega Moolah, as the slot generally boasts a payout frequency of around 12 weeks. It was just over 26 weeks ago when a Canadian player won $7,561,766 at Crazy Vegas mobile casino - a payout that in itself set the record for the biggest single win on Mega Moolah up to that point - and in the industry as a whole.
What does the Mega Moolah Slots Jackpot have in Store for Us?
Now, we start at the very beginning! The moment Mr. Heywood triggered the massive prize pot, the Mega Moolah jackpot reset to its seed amount of $1 million. The pot is slowly creeping upwards and is yet to gain momentum but it has only been one week since luck struck. For now, if you want to stand a chance to see your name on the dotted line of the next big paper cheque, head over to a top Microgaming casino such as Jackpot City casino and start placing your bets on Mega Moolah progressive jackpot slot!