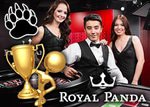 At Royal Panda Casino, the big winners keep rolling in as Live Roulette table players scooped up extraordinary cash prizes.
The list of big winners increases regularly, and in 2016 there are many days that will be remembered for its astounding payouts to Roulette players!
Some of the big live roulette winners include UK player Moosa who enjoyed from just 32 spins a grand total of wins worth $175,015 and a 31-year-old playing at exclusive branded tables betting high stakes made a large chunk of his fortune in just one spin delivering a win worth $147,930. Yet the week was not over and at Royal Panda, yet another big win was achieved by a player from Netherlands called Michael when he achieved a cash prize worth $75,856 in Live Roulette.
The astounding payouts at Royal Panda took everyone's memories back to the 5th of August this year when a big winner named Scott cashed out almost $400,000 within a week of playing roulette at the casino. Scott is 26-years-old and won this staggering amount at Royal Panda. The winner shared that he was determined to become a big winner and to increase his luck he played high tables. His lucky streak as he calls it started off with a win of $167,000 and only day's later his luck was back, and he again enjoyed yet another won, this time the spin of the roulette wheel revealed a win worth $243,260.
At Royal Panda Casino the tales of lucky live roulette winners knows no end and 56-year-old Mikael is eager to share the story of his powerful win worth $229,764 on the live roulette tables, he is one of the luckiest players and can't believe the hot streak of wins he enjoyed at the casino. Mikael earned from a single spin $45,000 which pushed his winning total well over the $200,000 mark and at Royal Panda players can wager up to $10,000 on a single spin, which is the maximum bet.
The casino also happily handed over a win of £69,003 over when a UK player Blazej turned £3,000 into £69,003. Blazej says it did not take long for his winning streak to start his bet of £279 on 21 Red awarded him a win of £9,625 and then increasing his bet of £500 paid off hugely, and he won another £18,000, and like they say the rest is history, in this case, fantastic winnings and the big winner was going to keep the money in his account for now until he decided what to spend his lucky prize money on.