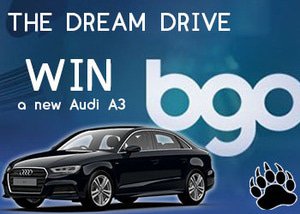 Interested in driving a brand-new Audi A3 Black Edition? Then join bgo Casino today and participate in their exclusive The Dream Drive promotion this March.
Have you ever dreamed about driving a brand-new car straight from the showroom? Well, thanks to the latest promotion at bgo Casino, you will get the opportunity to drive around in a new Audi A3 Black Edition or stand a chance to win a wide variety of other exclusive prizes, including free spins, cash rewards, iPhones, iPads, TV's, and even Apple Watches.
Even though bgo casino software offers a fantastic selection of prizes with their latest The Dream Drive promotion, it's all about the stylish-looking Audi A3 Black Edition. The designers at Audi created the perfect trim, building on the comprehensive S line specification. The Black Edition comes equipped with 18 inches allow wheels, a titanium look along with an intricate and unique 10-spoke design, and an additional layer of sophistication thanks to the Black Styling Pack, featuring black lights for the rear air diffuser insert, window trims, and radiator grille. There's never been a better time to join Bgo Casino than right now.
The Dream Drive Promotion
To participate in this once in a lifetime promotion at bgo Casino, players simply need to register a new account with bgo Casino, make a deposit, and opt-in to The Dream Drive promotion between 4 March 2019 and 31 March 2019. Once you have opted into the promotion, you can start earning prize draw tickets when you play.
You will earn 1 prize draw ticket for every $100 you wager across any casino game of your choosing. Bgo Casino did not place any restrictions on the amount of prize draw tickets you can collect. What's even more impressive is that you can earn double your tickets earned for a week when you collect tickets for 3 days within the same week.
The Dream Drive Prizes
The Dream Drive contest will award 100 lucky players with a vast selection of truly amazing prizes. However, only one lucky ticket holder will be able to walk away with the brand-new Audi A3 Black Edition. The 1st prize is the unbelievable Audi A3 Black Edition, while the 2nd and 3rd prize is an Apple iPhone XS and an Apple iPad Pro, respectively.
The player in 4th place will receive a TV worth $660, while the player in 5th place will walk away with an Apple Watch. The player in 6th place will receive $400, the player in 7th place will be awarded $300, the player in 8th place will be credited with 260, the player in 9th place will receive $200, and the player in 10th place will walk away with $150. The players between 11th and 20th place will each receive $65, while the players between 21st and 100th place will each receive 20 free spins on the popular Drive: Multiplier Mayhem video slot.
The Dream Drive Terms and Conditions
The Dream Drive promotion is available to both existing and new players at bgo Casino and must be at least 18 years of age. Players must opt-in to the Dream Drive promotion to participate. The promotion is available from 4 March 2019 until 31 March 2019. Players will receive 1 prize draw ticket for every $100 wagered on all casino games, except for Bingo. Every week, the total ticket amount will be doubled if players manage to collect tickets on a minimum of 3 separate days of the week.
Players can earn an unlimited amount of prize draw tickets during the promotional period. Golden Chips and Free Spins will not count as wagers towards earning tickets for the promotion. Once the promotion ends, 100 lucky players will be awarded prizes. Each of the 100 players will be notified on 1 April 2019. There are no playthrough requirements on free spins or cash prizes and will be credited directly into a player's cash balance which they can withdraw immediately.