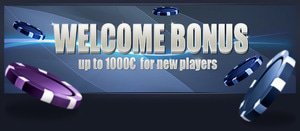 For more than a decade, the most popular type of promotion in the online gambling world has been the welcome bonus for new players.
As the competition increased between rival sites, they figured out that they would have to offer players bigger and better deals if they wanted to be a real contender. Betway is continuing that tradition in 2014 with one of the biggest and baddest welcome promotions that the industry has ever seen. You can get paid in multiple ways or win a huge vacation with Betway's Global Gift Grab promotion.
Here's how this new promotion works. New players are able to get welcome bonuses worth up to €1,000 on their first deposits. On top of that, they're getting 150 free spins on some of the hottest and most popular games that the industry has to offer. With this double whammy of a promotion, players will be getting a ton of value. Even if you play three spins per minute, it will still take you almost an hour to make your way through all of the free spins that you can get with the Betway Global Gift Grab.
But that's not all they have for you. The more you play after signing up, the better chances you'll have to take down one of three huge prizes. The first prize is a trip to Marrakech. The second prize is a trip to Brazil for the World Cup. The third prize is €100,000 cash. These aren't necessarily in the order of value, but they're definitely all a really big deal and give you an excuse to get excited about what Betway has in store for all of their players with this incredible promotion.
Betway is one of the iconic names in the online casino world. They've been around for so long and have introduced so many key concepts to the business that they are definitely one of the top dogs. When you play with them, you'll get tons of big promotions as you can see with the enormous welcome bonus with free spins and the Global Gift Grab. They also have an extensive selection of extremely high-quality games, and this is one of the main reasons why they have such a loyal following. Get in on the action with these promotions and win a great trip or €100,000 in cash.