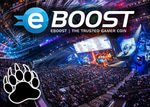 Betting on eSports in Canada has never been easier thanks to the International eBoost Society who have just created the world's first virtual currency specifically designed for wagering on eSports matches.
The International eBoost Society have created this virtual currency and immediately opened up a crowdfunding program with 100 million tokens up for sale.
Is this a clue that the online gambling environment is changing? Do we all need to adapt and embrace it? It might be that cryptocurrency is going to be the new form of money as we know it and it is important that we all learn what it is, who Blockchain are, and figure out what the whole thing means.
What is the eBoost Token?
The International eBoost Society looks to be embracing change and they are adapting. They recently announced what they have described as the first cryptocurrency dedicated to eSports wagering. What this means, is that in the future instead of using Canadian dollars to bet against players and teams in eSports, you will be able to use what is being called the eBoost Token. Will it make betting on eSports in Canada easier? We don't really know but what we do know is that cryptocurrency and eSports will ensure the spread of the right kind of financial genes.
Almost all gamers will have some experience dealing with virtual currency and this will mean that they won't fear change. It could make for an ideal economy.
The people behind the creation of the eBoost Token are Marshall Long, Nicholas Thomas, and Lionel Iruke with Jim Blasko leading the development team.
Unlike the first ever virtual currency, the Bitcoin, the eBoost Token will be non-mineable, and will instead operate on the "proof-of-work consensus algorithm". BitAngels founder Michael Terpin believes in this project and has come on board as both an investor and an advisor.
Crowdfunding on Bittrex
From what we have read and understood, there is a supply cap of 100 million eBoost Tokens. 20 million of which have been offered up at a crowdsale hosted on the digital currency exchange Bittrex. The sale started on the 15th September and will remain open for a period of 42 days. At this point, all unsold coins will be destroyed.
The team themselves believe in a future without the aggravating financial border controls that prevent the smooth flow of funds between payment processors, wagering/gambling platforms, and the people. They also believe in the growth and ascendancy of the eSports market which is where their virtual currency is aimed.
How Does it Work?
The first thing any eSports betting enthusiast in Canada will have to do is find a platform that will accept the new currency. At the moment the only place is Mockit which is an eSports platform that pulls in a huge audience through their partnership with the one and only Twitch.
The next step is to find an eSports match to bet on and wager your eBoost Tokens. If you win you will then take your virtual coins to Bittrex and exchange them for Canadian dollars.
It sounds easy and it could be the way forward for betting on eSports in Canada. Sports betting in Canada is really popular and the introduction of this new virtual currency may or may not make things a whole lot easier. Only time will tell.