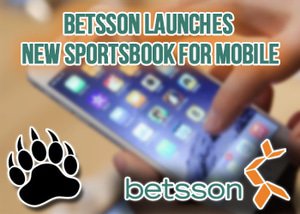 Betsson's operational subsidiary has revealed the launch of its new mobile sportsbook on its brands Betsson, Betsafe and Nordicbet.
The main enhancements are better user interface, ease of use and speed. The new mobile gaming sportsbook is built on the proprietary front-end technology framework OBG.
About Betsson's new mobile sportsbook
Betsson's subsidiary has made several improvements to its sportsbook offering the past year. It has a wider and deeper offering in more sports, more live events, more live streaming and with this recent launch a significantly improved user interface. The new sportsbook has been well accepted by punters during soft launch; session durations are longer, bounce rates are down and return visits have increased.
The Swedish firm confirmed that the upgraded Betsson sportsbook offered by its sites now features enhancements to its "ease of use" alongside a "better user interface and speed".
Betsson AB declared that its mobile gaming sportsbook had undergone "a number of improvements" over the past year including increases to the number of sports and live events on which it offers markets alongside further developing the service's real-time streaming capabilities.
Finally, Betsson AB proclaimed that a recent soft launch of the latest enhancements to its mobile sportsbook had been "well received by customers" as the innovation saw longer session times, reduced bounce rates and increased return visits.
"This is a major improvement of the mobile sportsbook," read a statement from Ulrik Bengtsson, President and Chief Executive Officer for Stockholm-based Betsson AB. "The timing of the launch is good as the English Premier League starts this weekend and customers have already shown that they like the upgrade. We expect to see the full effect of the new mobile sportsbook in the fourth quarter."
About Mobile Gaming
Technology really is an amazing thing and it gets better every year. Take new phone technology for example. These little devices can now do almost anything that computers do, including gaming. With such amazing advances, it is hardly surprising to see that mobile gaming casino games have really taken off. Players can enjoy playing anytime and anywhere they want. On the go and on demand is now the life we live and the gambling industry is cashing in on this with mobile online casino apps. Software developers are creating games that no longer require a download and in browser game play has become the norm.
The instant play option is a must have at any online gambling site today and this allows almost every smartphone owner the chance to enjoy their games on their pocket device. The gaming on the go mentality has really taken over and more and more gambling enthusiasts are switching to mobile gaming and enjoying all their favourite titles at a phone casino. With this innovative technology sportsbook betting has never been so laid-back. Whether you are a seasoned professional, an occasional punter, or a complete newcomer, you can start betting on your favourite event via mobile.
Receive €50 at Betsson Sportsbook Casino
As a well-renowned betting site, we invite you to join Betsson Casino and experience a highly exceptional site where sports betting is at its finest. Whatever the season, whatever your sport, Betsson has it covered. Betsson Sportsbook is the online sports betting portal for sports fans everywhere. Find your Betsson spirit on your desktop, tablet and mobile anywhere, any time. Make a first deposit of €25 and get €50 to play with at Betsson Sportsbook Casino. Make the most of it and double your balance before your first bet.