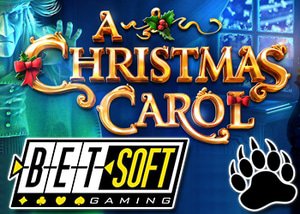 Formed in 1999 and based in Southern Cyprus, BetSoft have just recently announced that the latest addition for their blockbuster Slots3 enterprise is the recounting of the classic Charles Dickens Novel, A Christmas Carol.
The game they have created which is a 20 payline, 5 reel, 3D video slot, is the very first of its type on the Betsoft Slots3 product line, according to Mark McKeown their Vice President of Marketing.
With the release of the game aptly timed for the Christmas period, players can immerse themselves in plenty of festive spins in what is bound to be a new quality game reflecting the brand, all whilst receiving a visit from one of the Ghosts of Christmas Past, Present or Future.
The bonus system that is in place with this game is one of the best ones seen so far to date. It's designed to enhance the playing experience with multiple Free Spins, Guaranteed Wins, along with reels that roll backward as well as forward, incorporating a double-up mini game as well.
How the Rolling Reel Feature is activated is dependent on whether the player triggers the Christmas Past, Present or Christmas Future Bonus Feature.
Bring Out The Ghosts of Christmas!
The Ghost of Christmas Past offers Guaranteed Wins when players trigger the Free Spins Feature. Now the reels go backwards in Time.
The Ghost of Christmas Present transforms all the ghosts into Wilds, enabling super large wins, whilst the Ghost of Christmas Future rolls the reels forwards into future time. The double-up mini-game, doubles all winnings if players correctly guess what side up the coin will actually land.
A Christmas Carol is Betsoft's first seasonally themed contribution towards their Slots3 product line, according to the company's Vice President of Sales and Marketing Mark McKeown.
He went on to say that with its timely release leading into the upcoming holiday season, that they feel the special attributes of the game, especially with the Guaranteed Winning Spins players receive from the Ghosts Past and Future, "will bring bright joy to many players around the world." It now remains for players to give their seal of approval. There can be no doubt many will.