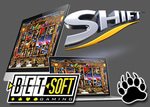 BetSoft Gaming unveiled its new Shift platform designed to utilize all the benefits of HTML5 technology.
In future, all BetSoft games will be built in the new Shift framework, and its next-generation is entirely created in HTML5, which is an international standard supported by all computers and devices.
The shift platform was created by BetSoft Casino Software online to compensate after the announcement that Adobe would discontinue its support for Flash, and by creating Shift, games created by the true leader in 3D cinematic gaming would continue to astound players with detailed, lush graphics and superb animations.
Shift's benefits include that the platform is able to run on any web browser including Apple Safari, Microsoft Edge, and Google Chrome, without additional plug-ins from third parties. This ensures a more secure platform, safe from cyber-attacks providing peace-of-mind to operators and players. Gaming fans can now finally enjoy 3D gaming the way it was meant to be with the new Shift platform utilizing a more efficient animation engine for its Betsoft slots. The new animation engine offers a higher frame rate, and all animated gaming action runs remarkably smooth allowing animations that are more graphically complex to lead players to more immersive and satisfying gameplay.
BetSoft Casino Software Online & Industry Gains From Shift Platform
BetSoft Gaming feels the new Shift platforms is the next step in evolution for iGaming and for both the industry and the company it is a tremendous milestone. BetSoft VP of Sales & Marketing Mark McKeown also shared that HTML5 mobile casino technology has been around for a while it is only now that the hardware and technology have matured enough to be able to enjoy its full visual excellence and standards of quality BetSoft is known for. McKeown also said that the company is exceptionally proud to introduce a comprehensive solution for future development in games such as Shift.
BetSoft Gaming will continue to provide its gaming library in flash for all its fans who still enjoy their incredible range of games on older devices and computers. While the company is updating each game in its 3D gaming library with the Shift platform to ensure better synchronization, it is safe to suggest that Betsoft is making strides forward that result in a better interactive experience for its players and licensed casino operators.