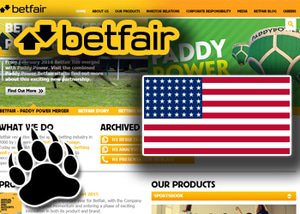 The Betfair US casino in New Jersey is now fully operational and will feature racing from Woodbine in Canada.
This week has seen Betfair US switch to full operation in New Jersey. On Tuesday they switched from beta testing to full operation in the state of New Jersey with the Monmouth Park Racecourse. The very first exchange betting for Betfair US took place but actions are expected to be a little limited for the first few days of operation and this is due to the constricted reach of their operation and a lack of live racing signals. Even with this little setback it is an excellent results and residents in New Jersey will now have a new casino to access.
According to reports that we have received, there were 24 players scheduled to take part in the beta testing that was carried out prior to full operation. Results from this beta testing led to several improvements with the exchange and a full operational launch is lined up with the Monmouth Park's press meeting which will coincide with the track opening on Saturday.
Reports have also stated that a number of other tracks are to be included within the first couple of weeks of opening. These include Woodbine in Canada, Mountaineer and Charles Town racetracks in West Virginia, Emerald Downs in Washington, and Louisiana Downs. This is great news for Woodbine in Canada and residents of New Jersey will now be able to sign up and register for Betfair US and make use of the exchange. Players will be required to reside in New Jersey and that must be their permanent residence if they wish to complete the registration forms.
This makes for some exciting times ahead for gambling in the US and it will be very interesting to see who things go in New Jersey and the affect this will have on legal gambling in the US. It will also be interesting to see if successful results will lead to further law changes and more states choosing to allow online gambling. As for Canadian residents, betting on races in Woodbine in Canada is always possible via our recommended online casinos for Canada including our favorite, Sports Interaction Casino.