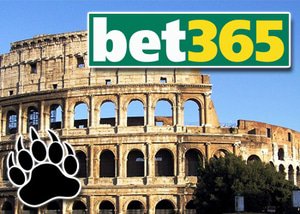 If you've ever dreamed of an overseas trip to one of Europe's most favored destinations the city of Rome here's your chance to make it real, as Bet 365 offers the chance to make the impossible possible, with their exciting new promotion when you play Gladiator Bingo throughout the month of April.
Three Levels Still To Play To Win This Amazing Trip To Italy!
Although we're half way through the month fear not as there's still plenty of time to play Gladiator Bingo and pip one of the early bird contestants and win this trip of a lifetime with this all exclusive trip to Rome in Italy.
All that you have to do for a chance to rise up through the Gladiator rankings of this 4 level competition is to follow the easy levels of progression, starting with the first stage of Level 1. Here you start out by gaining entry into the Colosseum Room by staking a min of CAD $5 on all Level 1 Games.
To hit Level 2 and gain entry, you then need to stake CAD $10 on the Centurion Slot or alternatively enter as a victorious winner from the previous Colosseum Room stage. With this accomplished its time to set sights higher and with a CAD $15 stake you now hit Level 3. One more stage to go and now Level 4 beckons.
At Level 4, Now's your chance to earn a Grand Finale ticket for every game that you win! Reach the top level conquering other opponents along the way, and you're positioned for the Grand Finale games to take place on April 29, 2016. Here you play for the trip to Rome and also play for other guaranteed prizes!
This Bet365 Gladiator Bingo promotion runs from 00.00 hrs UK time from April 4 2016 and concludes at 21:00 hrs UK time on April 29, 2016. If you're after this trip of a lifetime to the breath-taking city of Rome and a chance to do as the Romans do, It's time to get crunching those numbers without delay, Bring it on and let the battle begin!