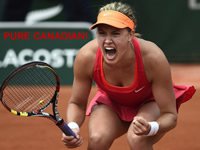 Across the nation, fans are rooting for Eugenie Bouchard to be the first Canadian tennis player to win the Wimbledon championship in 2014.
One of their own true, north strong and free, has made it to the finals in the 2014 Women's Wimbledon tournament. 20yr old Eugenie Bouchard will face Petra Kvitova, the current No. 6 competitor, on July 5th to win the Grand Slam title.
Eugenie, aka "Genie" was born on February 25. 1994 and hails from Montreal Canada. Having a passion for tennis since she was 5, she is now a professional tennis player. Bouchard was the first Canadian to win the junior Grand Slam and she's now competing for one of the greatest events in the sport. At the end of the 2013 WTA Tour, this young athlete was named the WTA Newcomer of the Year. She was also able to get to the semi-finals in the 2014 Australian Open, and in the 2014 French Open.
Eugenie is known for her aggression on the court. She is known for hitting the ball extremely early and rushes her challenger with a high groundstroke tempo. She also uses unexpected changes in the ball direction keeping her opponent on edge, which is nothing less that brilliant in this high intensity game. No patterns or directions to follow has lead her into obvious success as she moves to the top of the charts.
Throughout this tournament, Eugenie has taken her known dedicated and fierce approach achieving 116 points so far. In previous tournaments, she has reached a 20-9 record on grass. She will need to keep her aggression high to go up against Petra who is also known for not backing down as she has already won the Wimbledon title back in 2011.
Bet on Bouchard to win the Women's Wimbledon Championship in 2014 at Sports Interaction and catch the game live on TSN or CBC today!