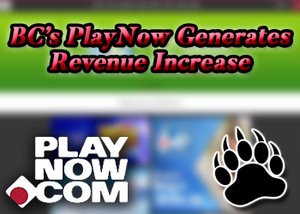 Online gambling revenue for the BC PlayNow casino is up 16% according to the British Columbia Lottery Corporation and this is good news for the province.
The online gambling division in British Columbia is doing great at the moment with increased revenues of up to 16% so far this year. The BC PlayNow online casino is one of the BCLC's most valuable contributors to the jurisdictions success.
Total revenues generated so far this year amount to C$157.6 million which is a 16% increase on last year. This has come about after improvements were made by the website's management team as well as increasing the number of slots available. A great deal of progress has also been made in expanding the games category available to players from British Columbia. This has included the addition of NYX gaming content which has really helped to boost revenues.
The recent report from the BCLC confirms that active players have increased significantly to 370,000 and growing at BC PlayNow casino. The corporation is more than satisfied with the gaming sites generations, but according to reports, allocations for the online capital spend was only C$1.6 million which is not even half of the money that was allocated for last year.
Net income was reported at C$1.34 billion for year-on-year results which is an increase of 2% and a new record. Most of the income came from land-based activity with the lottery sector falling a little short and less than what online and land-based casinos brought in.
BC's PlayNow casino is the only legal Canadian online casino for residents of British Columbia and if you are looking for a gambling site that meets all your needs and is dedicated to providing residents of this province with excellent casino games and more, then be sure to check them out today.
Get $100 Free with the PlayNow Casino Bonus
PlayNow BC casino is the government run online casino and is open to all residents of British Columbia. When you sign up for a real player account, you get a free $100 bonus. In order to claim this bonus, you have to sign up and use the promo code CASINO100 and make your first deposit of a minimum of $100. Then you have to spend $500 to automatically receive your $100 casino free play token. The $100 sign up bonus is subject to 30x wagering requirements. There are plenty of other promotions available on the site for sports betting, poker, and bingo. It's not the best bonus when compared with international sites but if you are looking for great NYX slots and less competition, this is a great choice especially if you reside in British Columbia. There are plenty of exclusive games too and the site is mobile compatible.