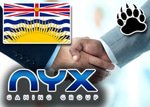 NYX casino software has satisfied the final condition of its OpenBet deal and has been given Canadian regulator approval which could see their casino games coming to BC Playnow casino.
NYX is now free to complete its £270 million acquisition of OpenBet after it was successful in registering as a supplier by the regulator in the Canadian province of British Columbia. This was the last outstanding condition that has to be sorted before the deal could be finalized.
NYX has been approved and registered as a Class B supplier by BC's Gaming Policy and Enforcement Branch (GBEB). The GPEB regulates all gaming in British Columbia and ensures the integrity of the gambling companies, people, and equipment being used. They ensure that BC legal gambling is up to standard.
OpenBet's platform and products were certified by the GPEB in 2012, but NYX casino software was also required to secure approval from the regulator before the deal could be completed. As well as supplying products and technology to BCLC, OpenBet also works with two other Canadian provincial lotteries, Loto-Quebec and the Atlantic Lottery Corporation.
Matt Davey, NYX Chief executive said, "I'm delighted to announce the approval by the GPEB in British Columbia. Through the acquisition of OpenBet, NYX has positioned itself as the only end-to-end digital gaming supplier in regulated markets. The team here at NYX, OpenBet and at GPEB have worked tirelessly to deliver to schedule and we look forward to closing the deal on or about May 20th as planned."
What This Means for NYX Casino Software
NYX has been granted "unconditional registration" from the Gaming Policy and Enforcement Branch in British Columbia and this means that NYX will now be permitted to provide its gaming content in British Columbia for the first time.
Matt Davey of NYX said, "Bringing NYX online gambling software to market in a growing and highly regulated jurisdiction like British Columbia is evidence of the synergies we are driving through our integration with OpenBet. NYX is committed to strict compliance and strong growth in regulated markets, so we are delighted to announce that we have been granted an unconditional registration in British Columbia."
Regulatory standards in British Columbia are widely respected as among the most comprehensive within the gaming industry and this new registration will allow BC Playnow online casino to add NYX casino software to their legal gambling site. PlayNow is the official provincially regulated online casino for residents of BC and the addition of NYX casino games will really help to boost their popularity. PlayNow casino has taken in a record amount of revenue on the outcome of the presidential election.
More About NYX Casino Software
NYX is a Toronto-listed gambling technology provider. The company provides one of the world's largest portfolios of leading content and technology to some of the best gaming operators, lotteries, and casinos in the world. NYX has over 200 unique customers and the widest portfolio of content which includes bingo, casino, lottery, sportsbook, and mobile formats.