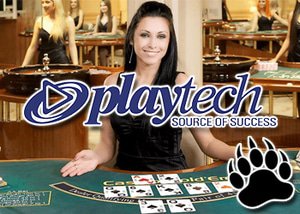 Playtech casino software provider launched an exciting new version of Baccarat this week titled Prestige Baccarat, which is the second addition to its new series of popular prestige titles in live casino.
Featuring superior and unique gameplay offered via a closer view of the action from five dynamic camera views, the release has generated a large amount of excitement here at Grizzly Gambling, as it has within the entire mobile gaming industry.
World leading software provider Playtech offers the classic favorite, Baccarat with a new modern look and feel, while the makeover provides players who enjoy live casino games with an improved and exciting modernized Baccarat version. With Playtech's touch, the live Baccarat online experience offers tremendously enhanced play. Players enjoy action replays of winning hands as well as gaming action from five angles, enabling players to enjoy a more authentic feel that brings the game actions closer than ever before.
Prestige Baccarat is set in a newly-created environment to offer a custom-designed backdrop depicting Symbols of Luck from Chinese culture plus a collection of specifically-created camera positions. They are focused on the Squeeze component of Baccarat that strengthen its values, as well as the experience that live casino games aimed to provide. While the player experience has been enhanced and re-engineered, the dealers are cherry-picked via skills and native language, all depending on the options selected by the player.
A First for Playtech
Playtech Baccarat Prestige showcased the sotware provider's first re-engineered live interface following the release of HTML5 Roulette created with extensive research, customer feedback, and licensees' feedback to combine the best player experience possible.
For Chinese players, Baccarat is one of the most preferred live games, and the Prestige Baccarat backdrop enhances players' experience with its theme inspired by Chinese symbols of Luck while other features are the highlighted squeeze ritual only part of baccarat. The practice is customary in land-based casinos where players can peek at the hand bet before the cards are revealed, and this is where Playtech's Baccarat Prestige adds to a realistic gaming environment and player experience. Dealers have also been picked to cater for players from different regions.
Head of Innovation at Playtech Live, Kevin Kilminster, shared that a lot of research went into the development of Prestige Baccarat and that the company created the new version while it was in close co-operation with casinos to ensure players get to enjoy a product that offers the best live Baccarat experience. Playtech's COO, Simon Akad added that Prestige Baccarat and the suite of prestige products is the start of an exciting journey in which Playtech will unveil its next generation of live games.
Playtech Baccarat is available at multiple online casinos, including Slots Heaven, so be sure to try your hand at it today!