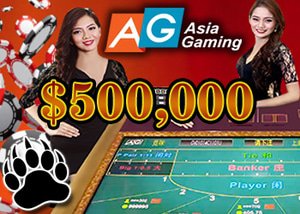 Asia Gaming is treating all their online customers to $500,000 free with their Virtual Red Pocket Cash Giveaway.
Running from the 2nd to the 4th February to celebrate the Chinese New Year, all players can take part in this free event.
Asia Gaming has had a very successful 12 months and this software developer has built up a strong reputation around the world. To celebrate this and the Chinese New Year which falls on the 8th of February, Asia Gaming are running a $500,000 Free Giveaway for all their online customers.
The Giveaway is part of this software developer's way of giving back to their players. The Red Poker Giveaway is available for players from the 2nd to the 4th of February 2016 and you can get in on the action at any of their online casinos including Thrillion City and LuckyBet89.
In a statement Asia Gaming's Sale Director, Kevin Chiu said, "Asia Gaming has had a fantastic year - as a matter of fact, the best year ever. Of course our success is due to the increasing number of players using our platforms, and we felt like giving something back at this celebratory time of year. We know this is a pretty crazy thing to do, but Asia Gaming is at the forefront of cutting edge technology, so it is only right that we are at the forefront of giving away cash for nothing as well."
During the Red Pockets $500,000 Giveaway, players will have exactly one minute to select as many Red Pockets as they can. At the end of the event, Asia Gaming will give players the total value of their Pockets added to their account. This free cash will be added an hour after the event has closed on the 4th of February, so if you would like to get your hands on some free cash, make sure that you are a player at any of the Asia Gaming sites.
Asia Gaming will also be exhibiting at ICE Totally Gaming 2016 in London to showcase their "Gaming the Asian Way" product and they can be found at stand N1 - 550.