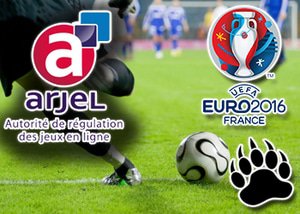 The French gambling regulator ARJEL has stated that the integrity controls platform that was launched in a bit to monitor attempted manipulation of the UEFA Euro 2016 championship has been a huge success.
Integrity controls were put in place ahead of Euro 2016 and they have worked as close to €300 million in bets have been placed. These controls were in place to help put a stop to match-fixing and to detect any suspicious wagering at very early stages. The deal for the introduction of these controls was reached in June in anticipation of the UEFA Euro 2016 football event and by the sounds of things, it has proven to be a massive success.
ARJEL described the tournament as the most important betting event to have been held in France since the passing of their iGaming legislation in 2010. A total of €297m in bets were placed across France, with €141.2m of these being placed online.
ESSA and ARJEL Integrity Partnership Deal
Earlier in June, the regulated betting industry's integrity body ESSA and ARJEL signed an integrity agreement. The agreement allowed ESSA and ARJEL to exchange information with each other on suspicious betting. This partnership covered a range of sports and competitions and demonstrated both parties' ongoing commitment to protecting sports, consumers, and regulated betting markets from the threat of match-fixing.
Mike O'Kane, Chairman of ESSA, said: "We are delighted to be working with ARJEL; this agreement represents an important milestone in establishing a network of international information sharing agreements between regulators and responsible regulated betting operators. One of our key objectives has been to establish cross-sector partnerships as the most effective means of tackling betting related corruption in sport."
Charles Coppolani, Chairman of ARJEL, stated: "The exchange of information and international cooperation with betting companies is a key part of the Council of Europe Convention to protect sport and tackle corruption. This agreement strengthens our betting integrity framework ahead of one of the biggest sporting events in the world, taking place on French soil. Sports betting integrity is paramount and ARJEL is committed to protecting that ethos and to working with responsible stakeholders such as ESSA."
ESSA holds positions on match-fixing policy forums at the European Commission, Council of Europe and the IOC. They are also involved in a number of activities aimed at addressing betting related match-fixing in sport.
The agreement that was reached with ARJEL to introduce integrity controls prior to Euro 2016 has really paid off and it could see a lot more deals being reached in the future.