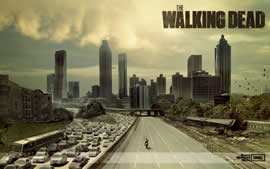 Prepare yourself as the undead rise in Aristocrat Technology's latest addition to their collection of television and film inspired game catalogue.
The Walking Dead. As always, the most popular phenomena in pop culture see their fair share of product lines and spin offs but only the most influential seem top get their very own slot machines. With millions of viewers tuning into the weekly broadcast as well as the online-only episodes alongside purchasing toys, action figures, and video games, there is more than enough interest to make this virtual addition one a sure hit right from the start.
The Walking Dead slot machine makes it's debut to the internet slot market, following in the footsteps of the real-world slot machines of the same name, which is gaining more interest and active players by the day. The video scenes that cut in between play sessions will show fans new animated footage from the hit show's post-apocalyptic world as well as footage from the live action show which has never been seen before.
There are all sorts of ways to play through and advance the storyline in The Walking Dead. The player's spins on this 5 reel game will help the ever popular Daryl, among other characters, survive in the world infested by the living dead. The items and people on the reels will be familiar to those interested in the show, such as the RV, characters past and present, and several items from some of the most tense moments. Wheel Bonuses give the chance at multipliers of two to ten times, Free Spins, and big score increases.
One of the greatest features that Aristocrat Technology has included is the accessibility worked in with the minimum bet being very literally in the penny slot range. This gives new or timid players the ability to play conservatively and experience the game without taking what they may see as too large of risks. On the other hand, those willing to lay a little more on the line could very well be only one spin away from the Jackpot. How much more? The maximum bet is a paltry three dollars for the chance to be taking an impressive $500000 to the bank in exchange.
For those looking to get their hands on Aristocrat Technology's new game The Walking Dead and many of their other huge hits, feel free to give it a try at Bet365. The site offers a $200 deposit bonus for new customers as well as a whole host of other casino and table games as well as sportsbook betting and a lively bingo area, offered in 17 languages.