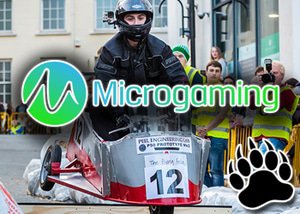 In nearly 6 months, on September 3, 2016, the 3rd annual Microgaming Soapbox Race will once again take place on the Isle of Man's streets of Douglas, and everyone is invited to join in the fun!
The first time the annual Microgaming Soapbox Race was organised was September 2014 and those who attended claimed it to be a runaway success. There were 25 non-motorized, home-made vehicles that took to the course, and they raced down from Upper Church Street towards the Barrack Street destination, pitting their wits against the stopwatch.
The first event included soapbox-kart designs including a rugby scrum, the Snaefell Mountain Railway, and Brum from the TV Series. It provided the thousands of onlookers with hours of entertainment, whilst at the same time raising CAD $5400/£2900, donated to charity partner for the event, Hyperbaric, Isle of Man.
Last year the course remained the same, but the soapbox drivers had tighter chicanes and bigger jumps to contend with. The prizes were once again awarded for the highest speed, fastest finisher, outstanding design, best crash, biggest jump, outstanding design, and the Scrapheap Challenge.
Entries Now Open To All Home-Made Kart Designers For 2016!
With the excitement now starting to build for the 2016 event, entries are now being taken for this year's entrants, with the participants contributing to a great cause as with each year. What originally started out as just an idea, has now been turned into a regular entertainment fixture on the yearly calendar, and attracts enormous crowds as they all descend upon the streets of Douglas.
With prizes to be awarded for the Best Crash, Biggest Jump, and Most Botched Kart amongst others, Microgaming's Head of Playitforward, Claire Coleman, commented on how rewarding it had been to watch the event grow each and every year, and see the crowds all gather together on the night, for a thoroughly enjoyable evening's entertainment. She extended her thanks to all who had made the 2015 event such a resounding success, and commented that over at Microgaming they were already planning and preparing for their personalized 2016 Kart!
As on the last two occasions of the annual Microgaming Soapbox Race, all proceeds will go to the local Isle of Man Charity Hyperbaric who provide hyperbaric oxygen therapy with the use of pressured chambers for patients. Speaking for Hyperbaric, David Downie MBE stated:
"Funds raised to date have been put towards the purchase of a new hyperbaric chamber, to accommodate up to 25 patients at a time. We hope that this year's event will help us achieve this goal."