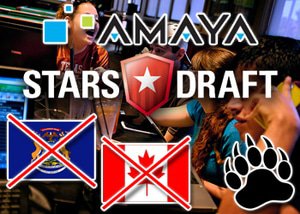 The StarsDraft daily fantasy sports site has been launched in the United States by the Amaya Gaming Group after the big purchase from Victiv.
When the Amaya Gaming Group purchased the Rational Group last year and made Canada the center of the online poker world, many players bucked at the idea that they would be adding other types of gambling to the PokerStars brand. They suggested that they would be adding casino games and sports betting to the brand in 2015, and when they announced the purchase of daily fantasy sports site Victiv, it seemed they were getting into that arena as well.
Strategic Positioning
They called this site StarsDraft, and it's finally been opened to most American players. However, there's more to this move than just offering another online option, and it tips Amaya's hand a bit when it comes to their long-term strategy. The obvious move for them here is to get the PokerStars brand in front of as many American players as possible to prime them for getting in on the action with their other properties in the future as more and more states regulate the industry. It's the smart short-term move to get in on the fastest-growing segment of online gambling in the United States, and it's the smart long-term move to get their brand in front of as many players as possible.
It's also worth pointing out that they're going after old PokerStars players from the United States. They have specifically announced their intentions to have old PokerStars players be able to sign in and play daily fantasy sports with their old poker room log-ins.
Play Restrictions
No players are allowed from Canada at this time, and that's a bit of a conservative move since there aren't really any laws governing daily fantasy sports in the country right now. They're also keeping out of Iowa, Montana, Arizona, Louisiana, Washington and Michigan since those are states that have explicitly stated that they believe daily fantasy sports is against their state laws. In the future, we'll have to see how this will play out and if more states will ban this type of wagering, but for now it's an extremely popular movement.