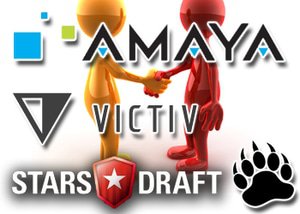 The Amaya Gaming Group has purchased Victiv, a daily fantasy sports company, and they have rebranded it as StarsDraft.
About a year ago, the Amaya Gaming Group purchased the Rational Group, the parent company of both PokerStars and Full Tilt Poker. Since then, they have been making a number of big changes to the PokerStars brand. They've introduced a number of different types of casino betting, and while some of these changes have irritated uninformed poker players, they also promised to get into sports betting and daily fantasy sports. They're acting on the latter with a new purchase.
PokerStars Daily Fantasy Sports
The thing that Amaya knows is that they're good at identifying what they believe to be undervalued online gaming businesses and turning them into something stronger as a part of their whole operation. They've recently purchased daily fantasy sports provider Victiv, and with its rebranding to the StarsDraft name, it looks like this is going to be how they go after the daily fantasy sports market with PokerStars-based branding.
The Daily Fantasy Sports Revolution
The daily fantasy sports market has been exploding over the past year or two, and Amaya has had that action on their radar. Right now, however, this is really just a part of an overall strategy to get reconnected with the American audience. Daily fantasy sports is protected by the UIGEA, the same law that was the basis of the Black Friday incident in April of 2011 that was the last time PokerStars actually operated in the country. In this sense, there's a lot more at stake than just getting a piece of the daily fantasy sports market.
How This Will Go
It's unclear how this will go in terms of Amaya getting the PokerStars brand back into the United States. A lot of times, PokerStars has been stopped from working out a deal to get back to US players from what they call a "bad actor" clause that stems from their previous poker activities. Along those lines, we'll just have to wait and see how this plays out because nobody really knows how the various American jurisdictions (on a state and federal level) are going to react.