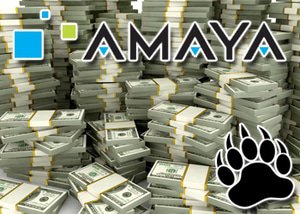 Amaya has grown PokerStars to offering online casino games and other services, and it could drastically change where their profits come from.
When the Amaya Gaming Group announced that it would be adding online casino games and other options to PokerStars after their purchase of the brand last year, it caused a lot of noise in the online poker community. There were concerns that it would bring more recreational players over to the casino games than the poker games.
While there's no guarantee that this is the case, what we can see is that their casino profits are shooting up quickly. In Q1 for 2015, online poker was 95 percent of Amaya's total take. However, in Q2, it dropped to under 90 percent with online casino games taking up 11 percent of total revenues. This is a huge 78 percent increase from Q1 to Q2 for online casino offerings.
Big Canadian Implications
One major implication of this is that there has been a lot of speculation that Amaya could enter the Canadian market. Both Ontario's Play OLG and Loto-Quebec's Espacejeux have been mentioned as possible entry points for Amaya into regulated Canadian markets, and this could include access to PokerStars. While this is still speculation, it could really change things up and provide players with the high-quality experience they have been looking for in alternatives to what's currently offered through these provincially-regulated gaming portals.
The Future of PokerStars Online Casino Games
The fact of the matter is that, even though Amaya is expanding into daily fantasy betting with its new DFS brand, StarsDraft, casino games look like they have the potential to be a major earner. In fact, it's possible that this growth could continue until it beats out their online poker earnings. Even if it doesn't beat them out, it will definitely be a more significant portion of their revenues than people probably imagined.
In both the United States and Canada, PokerStars is knocking on the door of regulated jurisdictions. While they don't necessarily have a clear way in right now, chances are that we're going to see them in action sooner rather than later.