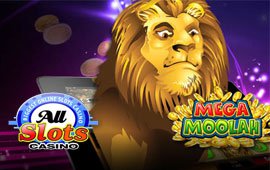 Canadian online gaming player known as Ion M. Ion is living like an ancient Egyptian Pharaoh after winning two jackpots in one week.
The Canadian player won big on the popular slots game Mega Moolah Isis at All Slots Casino. No doubt the lucky winner will be celebrating the CA$50,000 in prizes in the real Egypt in the near future. He will be cruising the Nile in luxury and style like Cleopatra and Julius Ceasar!
The player won the two jackpots five days apart by playing this fantastic slots game. The first jackpot was worth CA$45,605 followed by a second win of CA$5310 in prize money. That's a double big win for a lucky Canadian who played the right slots game at the right time. How would you like to win a big jackpot? Imagine enjoying your winnings on a luxury tour of the ancient pyramids in Egypt!
The slot game Megah Moolah Isis paid out two big jackpots in one week at All Slots Casino. The game is a unique and exotic style of slots that combines two games in one. The game features high definition graphics of Ancient Egypt landmarks and realistic hieroglyphics. Players get to enjoy the symbolism and opulence of Ancient Egypt while playing the multi-coloured wheel from Millionaire-Maker and four Progressive Jackpots in the same slots game. It is a very popular games for players who want to win big jackpots while being entertained with state-of-the-art features. It is a top played game at All Slots Casino. This particular slots game is a 5 reel, 25 payline slot that features scatter, wild, free spins and multipliers.
There are multiple games in the Mega Moolah series. The big winning Mega Moolah Isis is graced by the presence of the ancient Egyptian goddess of fertility. "5 Reel Drive" is a fun road-tripping themed slot where players can hit the open road on streets paved with gold! There is also "Summertime" and the classic Mega Moolah, which takes you to an African Savannah. The classic version boasts the largest Progressive jackpot payouts in the history of online and mobile Casinos. All of these fantastic games are available at the one and only All Slots Casino. If you would like a chance to win big like the lucky Canadian player then claim the free CA$500 Welcome Package at All Slots and begin playing today.