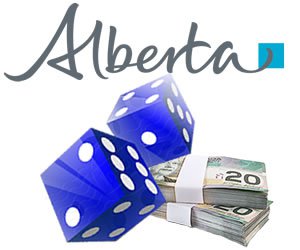 Canadian online gambling law allows provinces to run their own games, and Alberta is in hot debate about introducing it's own online casino.
The online gambling law in Canada is designed to give most of the power to the provinces. It's banned on a federal level with the exception that provinces can operate government-run games to players within their borders. Alberta is one of only two provinces (the other is Saskatchewan) that do not offer these online games, but that could change soon.
The Alberta Gaming and Liquor Commission, known as the AGLC for short, has been looking at the possibility of adding government-operated online gambling for a while now. Despite the current Alberta online gambling laws, government officials are aware that players in Alberta are going to get in on the action regardless, and their estimates are that at least $120 million is spent on these sites each year. The AGLC's efforts would be to try to catch a piece of that revenue and use it for social programs and padding government coffers.
One of the problems with starting up a site like this is that it's hard to tell exactly how much they're going to bring in. Because they have to operate their own games and can't just license top operators from outside of the country, it's been fairly difficult for the provinces that have regulated online gambling to get a large piece of the market share. In fact, estimates are that no province has taken over a majority of the market share inside of their borders to date, and a major part of that is that it's hard for the relative newcomers to compete with companies that have been involved with the business for sometimes 15 to 20 years.
Even with that as a given, it could still be particularly profitable for Alberta to get in on the action. From a social standpoint, it would also put them in a position to help players who might otherwise fall victim to shady operators or even problem gambling. Opting in to the AGLC games puts you on a mailing list for information to help with problem gambling, for example.