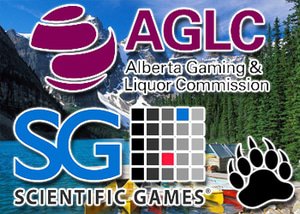 Alberta Online Gaming continues to make forward strides as does its land based counterpart with the Alberta Gaming and Liquor Commission announcing their recent co-operative with the Scientific Games Corporation (NASDAQ: SGMS).
The AGLC has announced that they have signed an enterprise-wide systems agreement in conjunction with the Scientific Games Corporation, in an effort to provide system solutions for all its land-based casinos.
The Scientific Games Corporation will replace all systems currently in use by Alberta's 28 casinos with their SGMS developed Bally systems, that will hook up over 14,000 slot machines.
The Scientific Games Corporation are top world-wide developers of technology-based products and services for gaming, lottery and other types of various interactive markets. They develop game systems and content, gaming machines, instant lottery games, server-based lottery gaming systems and games, table game products and utilities, sports betting technology, as well as interactive services and content.
President of the Lottery and Gaming Services for the AGLC, Bill Robinson, along with Niaz Nejad, Vice-President recently announced the agreement stating that the selection of the SGMS Bally systems, followed an extensive process where they had reviewed a wide range of gaming systems in an effort to identify what would be the best for Alberta's casinos. In the end they finally concluded that the Bally system was indeed superior to anything else they had reviewed.
Describing the process the AGLC had gone through, Robinson stated that the reason they selected the Bally systems to replace their current slot accounting system, was the fact that it is an innovative system which also includes tools to allow players a superior gaming experience, at the same time facilitating operators with information that will nurture future growth.
Although no specific reference was made to Alberta online gaming, Robinson was keen to state how they considered this another big step in their progress towards their casino modernization efforts. Scientific Games for their part expressed their satisfaction having been selected by AGLC to be the systems initiative solution provider.
Scientific Games' Chief Gaming Revenue Officer Robert J.Parente told reporters that the company's selection confirms SGMS's strategic focus on Canada, where attention to system technology and innovation is indeed a top priority.
AGLC confirm that they fully expect to capitalize upon Bally systems software solutions as well as hardware solutions. This includes CMP and SDS systems, EBS bonusing, and the iVIEW DM player interface. EBS bonusing is a particularly popular feature with all size casinos, as it provides the casino venues with not just competitive, but also scalable slot-management marketing systems.
One of the very first Alberta land-based casinos that will fully integrate Bally systems on their casino floors will be the Grande Prairie Casino. No doubt as one of the top casinos in Alberta it will steal the limelight away from Alberta online gambling, albeit temporarily. When it comes to innovation its fair to say two can play that game. The Grande Prairie have now been dealt a new hand. Let's see how well they can play it.