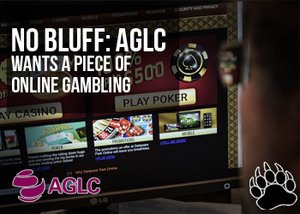 The Alberta Gaming, Liquor, and Cannabis government agency, or AGLC for short, wants to expand its services and get into the online gambling business - a move the agency feels will keep things relevant to the players in Alberta.
AGLC is searching for a piece of the action in the online gambling industry, much of which has managed to benefit foreign operators. The agency has recently issued a request for proposals in order to get a contractor to offer online services to try and keep the commission relevant while offering a safe and secure gaming option.
"The lack of a safe and secure online gambling presence places Albertans at a huge risk as unregulated, offshore casino sites don't offer any tools when it comes to responsible play." Angelle Sasseville stated in an email recently, who is the spokeswoman for AGLC. The request for proposals issued on 17 January 2019 states: "Providing Albertans with an online gambling presence will help the AGLC to sustain long-term revenue by offering gaming content via a brand-new channel that will ultimately respond to entertainment and consumer trends."
New Online Gambling Presence in Alberta
The current online casino laws in Alberta don't offer any provincial casinos at the moment. Therefore, if the AGLC can offer its own online gambling establishment, it will assist in keeping minors from participating and will ensure that winnings are paid to players who will also be better equipped to play responsibly. The online gambling site can be effectively used to educate consumers, provide healthy gaming behaviour, and assist players to successfully manage their own behaviour by making informed decisions. Lotteries, casino games, bingo, and poker will be provided by the AGLC online.
With an online gambling presence, it will also assist the AGLC to successfully protect its $1.4 billion in gaming revenue. It was thought that the move could potentially provide over $75 million to the government when deficits were rising due to an oil patch downturn. Those finances have only managed to get bleaker since then. During that time, Bill Robinson, the head of the AGLC, insisted that the move towards online gaming had absolutely nothing to do with hydrocarbons and its falling price.
Unregulated Gambling in Alberta
Today, more than $350 million is wagered on unregulated gambling sites by Albertans. However, it's rather difficult to forecast the overall impact on the revenue it will have at the moment. Potential service providers need to submit a proposal before 28 February 2019 as the AGLC will choose an appropriate contractor in June 2019. The regulator wants to have an online gambling website in full operation by 2020 under a 7-year contract.
The effort to establish an online gambling presence comes off the heels of another AGLC regulatory onslaught in response to the nationwide legalization of cannabis in October last year. Alberta is quickly catching other provinces across Canada, including Ontario, Quebec, Manitoba, and British Columbia, whose government already provide a range of Canadian online gambling websites.
The AGLC has been looking for other implementations around Canada, as well as across the globe, and has witnessed several implementation approaches and different models. Some of the funds that are raised by online gaming has managed to benefit community amenities, amateur sports, and a wide variety of other non-profit activities.