Hilarity Ensues with Playtech's Ace Ventura Slot
By:
Russell Potvin

, Sun. Dec. 20, 2015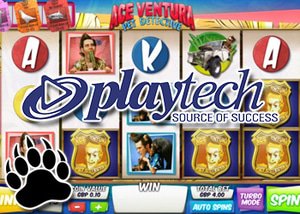 There is simply no denying that Playtech's new "Ace Ventura" Pet Detective fits players' gambling wants and needs "like a glove".
"Ace Ventura: Pet Detective" was one of the biggest movie hits of the 90s. Thanks to Jim Carrey and his hilarious antics, the film is often considered a classic among those growing up during that generation. slots have always been incredibly popular, and as their competition ramps up their game with new technologies and innovations, this software giant seems to lead the pack. Thanks to offerings like Ace Ventura, gamblers will continue to flock to Playtech for all of their gambling and entertainment needs. Allllllllrighty then! What are you waiting for? Don't be a looo-hooo-zer. Check out the Ace Ventura: Pet Detective slot from Playtech and get ready to relive one of the best and most hilarious films from the 90s.