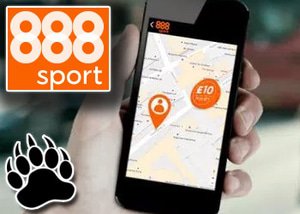 888Sport has launched their very own Pokémon Go style geo-technology betting app that allows football fans to search for free bet offers when they are near one of the featured stadiums.
If you are a football fan now is the time to join the hunt and we don't mean for Pokémon. 888Sport has a brand new game where you can go on the hunt for free bet offers.
The Free Bet Hunt game is now available through the 888Sport app and mobile websites and gives players the chance to unlock exclusive free sports bets that are located around the stadiums that are shown on a map. Find them and you get to claim them. It's a simple as that.
The game is partially in conjunction with the operator's sponsorship deals with four Sky Bet Championships clubs - Birmingham City, Brentford, Nottingham Forest, and Preston North End. 888Sport have stated that the product is also going to be used around Premier Leagues fixtures too.
The Free Bet offers that are provided by the game are not just available to match-goers so you don't have to worry about attending the game. The prizes that are featured in this Pokémon Go style betting app can only be found in the surrounding areas outside the stadiums and there won't be any inside the stadiums.
888 Holdings Senior Vice President and Head of B2C, Itai Pazner, said, "The great thing about this game is that fans don't necessarily have to be going to the match in order to take part. The initiative is another major step in providing football fans with a fully immersive betting experience and ensuring that no matter the location or time in the day, fans have the opportunity to make their bets around a match day."
The Pokémon Go Phenomenon
Pokémon Go hit the world like a whirlwind storm over the summer and there seems to be no let-up in its popularity. It has had both positive and negative press but it looks like it has made an impression on the online gambling world too. With Pokémon Go, players get to travel between the real and virtual world of Pokémon on their mobile devices in the search for Pokémon. The game uses real locations to encourage players to continue their search in their own locality and it allows them to find and catch more than a hundred different species of Pokémon.
The game has seen today's youth leaving the comfort of their homes and their gaming consoles to go out exploring. This was one of the big positives for the game and 888Sport are jumping on the bandwagon getting football fans to go on the hunt for free bets. Will it work, will it get football fans running around stadiums like crazy looking for free bets? Who knows, but it sure will be exciting to see.