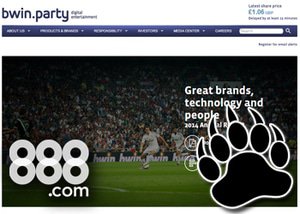 888 the online casino and poker brand has won the battle for rival Bwin.party Digital Entertainment last Friday in a deal that is estimated to be worth nearly $1.4 billion.
888 has been battling against GVC Holdings who made a 908 million pound offer for Bwin. Bwin put themselves up for sale last year and even 888 rejected a takeover bid from William Hill, Britain's biggest bookmaker. According to Brian Mattingley, 888's Executive Chairman, this new deal creates one of the world's leading online gaming operators and it is all about scale. This deal is actually just one of the latest M&A activities that we are sure to see continuing as companies expand in an effort to offset increasing taxes and tighter regulations as well as funding increasing marketing and technology budgets.
888 believe that they can survive and last longer in this ever changing market and their offer for Bwin.party was 104.09 pence per share which was made up of 39.45p in cash and 0.404 new 888 shares, works out at being 16.4 percent higher than the original share price that Bwin had of 89.40p before talks began back in May.
GVC's rival offer was 110p which was higher than 888's but Bwin said that 888 carried fewer risks and had better prospects as well as an experienced management team. U.S. activist investor Jason Ader welcomed this new deal and as one of Bwin's big shareholders he said that he believed the 888 management team will realize significant long-term synergy value for the shareholders with the least amount of risk.
Shares at 888 casino rose by more than 10 percent while Bwin whose shares had risen 30 percent in three months, gained a further 2.7 percent to 105.7 pence after the deal. 888 offers poker, bingo and casino games and has been enjoying immense growth since gambling enthusiasts began moving their gaming online via tablets and mobile devices. In acquiring Bwin, 888 will not only boost their revenues but also bring their strong technology platform and management team to Bwin's business.
By the end of 2018, this deal will have cost benefits of at least $70 million. It is estimated that this combined group will have revenue of over $1 billion and become the leading online gambling operator in a number of countries in Europe including the UK. Bwin shareholders will own 48.9 percent of this new firm and will be able to vary the amount they receive in cash and new 888 shares in this new deal.