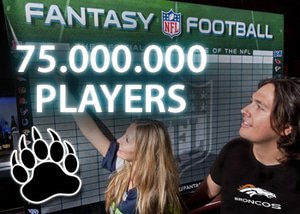 Are you ready for the fantasy football season? According to statistics approximately 75 million people are set to participate. Are you one of them?
NFL season is about to kick off and with it, approximately 75 million people in the US are getting ready to play fantasy football. The statistics come courtesy of American Express, whose latest Spending & Saving Tracker reported a staggering 74.5 million Americans will be participating in Fantasy Football leagues and spending an estimated $4.6 billion. According to their spokeswoman Jane Di Leo, this is the first time that the company has measured this kind of gambling and although they don't have a point of comparison, they have said that they expect fantasy football figures to continue to grow.
The Fantasy Sports Trade Association (FSTA) reported that almost 57 million people aged 12 and over in Canada and the US participated in fantasy sports during 2014. They also stated that participation has grown exponentially over the past number of years.
When asked why people enjoy drafting and running a football team, Jane Di Leo, who also participates in fantasy football, states that the social component is evident and that people come together to enjoy the sport. They visit each other's homes and they enjoy the competition. Participants are playing for real money and it is estimated that an average of $107 is spent by each person participating in fantasy leagues. On top of this, it is expected that 58 percent of players will spend an additional $64 on food, 48 percent will spend an average of $50 on non-alcoholic beverages, and 47 percent will spend an average of $60 on alcohol. Only 29 percent of players will not place wagers.
The percentages for the types of players bettors are looking for according to American Express are: quarterbacks 57 percent, running backs 32 percent, and wide receivers 9 percent. Men are also more likely to play than women but figures have shown that there are millions of females participating and the ratio is roughly 1:5.
The most popular places to play according to American Express are: ESPN 54 percent, Yahoo! Sports 40 percent and CBS Sports 29 percent. This doesn't include other online gambling sites. Amaya have launched StartDraft a daily fantasy sports site but they have blocked Michigan, Canada from taking part.
The American Express Spending & Saving Tracker research was completed randomly among 2,127 adults.