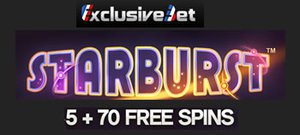 Net Entertainment's Starburst video slot is known for being extremely popular, and you can get 75 free spins on this game right now.
If you want to get 75 free spins on the Starburst video slot at ExclusiveBet, then you're going to be in luck because they have a special promotion running through February 28, 2015 that allows you to do just that. Take advantage of this exclusive promotion by starting out with five free spins as a no deposit bonus that you get just for signing up.
After that, you can get an additional 70 free spins for the same game added to your account after you make a small deposit to verify your identity. These free turns are played with all paylines activated, so you're not going to have to worry about losing value when you play. If you're looking for an excellent opportunity to get your bankroll kicked up to the next level, then you have it right here because these free turns could turn into a nice winning streak.
Starburst is a 10-payline video slot that's considered to be one of the most popular games by Net Entertainment right now because of its futuristic theme and particularly high hit-rate. While all of Net Entertainment's games are of a high quality, they've made a lot of news lately for actually pulling older titles off of the shelves to make way for their newest games which they feel are improvements on the older games. This means that you're always getting a fresh experience when you play with sites that use this software.
ExclusiveBet is a good example of an online casino that uses the games that NetEnt has to offer in a way that really gives players an awesome experience. They frequently put on cool promotions like this free spins special offer to give you extra value value because they want you to know that they are focused primarily on the quality of your experience with them. Overall, this is the perfect chance for you to use ExclusiveBet's generosity to push your bankroll up to a whole new level while you enjoy one of the most popular video slots running today.