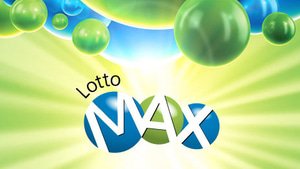 In an incredible stroke of luck, a couple from Ontario found the LottoMax ticket worth $50 million that had been lost for months and claims their prize.
In January of this year, Hakeem Nosiru checked his LottoMax ticket at a retailer and, after initially thinking that he had won $50,000, found out that the true value was actually the full prize pool of $50 million. The next day, the ticket was nowhere to be found, even after taking careful measures not to lose it. He had been afraid of losing track of that important slip of paper and even went so far as to tuck it into an envelope and duct tape it to his stomach to safeguard it before giving it to his wife to put in her purse for safe keeping.
Unfortunately, the envelope with their big win ended up going missing for months on end until, on April 1st, the same day that a woman from the Ottawa area won $48 million through LottoMax, a member of the church that the couple attends returned the ticket to them because Hakeem had thoughtfully signed it after buying it. Not knowing the value of what they were giving back to the couple, the good Samaritan placed $50 million back into the hands of the grateful couple.
Once they knew that the ticket was missing, Hakeem was not angry, as one would expect someone in the situation to be, he simply said that it was in God's hands, "God gave us the money. We lose the ticket and eventually we found it. Thank God for that." His wife, Abiola, was heartbroken, blaming herself for misplacing their fortune, "I couldn't sleep for days, I couldn't eat. I was devastated."
After a long and drawn out process including all of the OLG paperwork and a police investigation to ensure that the long lost ticket did indeed belong to the couple, Hakeem and Abiola, who have lived in Brampton for 17 years since moving to Canada from Nigeria, finally have what belongs to them. Their plans are tame compared to some of the jackpot winners, but respectable and modest, putting the focus on their family members. Abiola said of collecting their winnings, "we are relieved, we are very excited, we are happy. We're going to relax with our children and our grandchildren."
Though this story had a very happy ending for the couple and their family, it should serve as a sobering lesson for all lottery players to sign their tickets immediately after purchasing them so that a lost ticket could be returned to it's rightful owner.