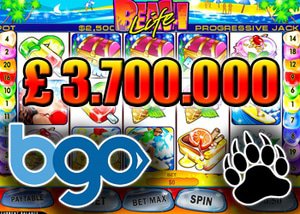 If you're a fan of progressive jackpots at Canadian online casinos, then you'll want to know that a $5.8 CAD million payout was scored by a UK player on Playtech's Beach Life.
In the online slot world, progressive jackpot games are king. They are responsible for the most popularity a large percentage of the time, and they're responsible for the biggest payouts. The Beach Life online slot by Playtech is known for being their biggest progressive slot, and a lucky player from the United Kingdom recently found out why.
The Big Progressive Slot Winner
Beach Life paid out C$5.8 million (£3.7 million) to a player from the United Kingdom to establish an important record for Playtech. This is the second-largest jackpot that this game has every paid out, slightly behind the £4.4 million prize that was awarded back in early 2012. The player goes by the name "Hilton," and this player was only playing for £0.50 per line. This allows the progressive to trigger, and it hit at the right time for this lucky player.
Beach Life Slot is Atypical
For most software providers, their biggest progressive jackpot often guarantees a seven-figure win. Beach Life is different in that it only starts out at the $50,000 level. What makes this game stand out is that the jackpot increases extremely quickly, and this is why there have been so many seven-figure wins on this particular game. Fans of Beach Life and other progressives know that the biggest payouts get the most attention, and it's definitely the case with Hilton's £3.7 million win.
Playtech Jackpot Does It Again
Playtech is known for being one of the top online casino software companies available today. They have hundreds of games to offer, and that includes several progressive jackpot titles. If you're a fan of having a chance to win an amazing payout, then you will experience that in a major way at Playtech-powered online casinos. Come get in on the action now since they have multiple progressive jackpots sitting over the seven-figure mark right now that could turn you into the next big winner in the news.