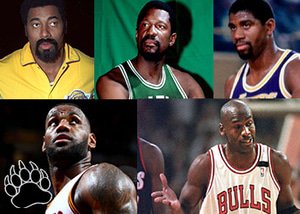 As Stephen Curry, LeBron James and other stars create a brand-new NBA before our very eyes, we decided to present the 5 most influential NBA players of all time.
Each of the players in our list forever changed the way we talk about basketball, the way we play basketball, and even the way we bet on basketball. So, below you will find the real game changers who influenced the game the most, both on and off the court.
5. Wilt Chamberlain
Teams: Los Angeles Lakers (1968-1973), Philadelphia 76ers (1965-1968), Philadelphia/San Francisco Warriors (1959-1965).
Wilt Chamberlain set a phenomenal amount of records and some of them might never be broken. This doesn't include the 100-point game, which could be achieved one day. Some of his most notable records include the 55-rebound game, averaging 50 points per game for a season, and playing 48.5 minutes per game for a season. Chamberlain also managed to shatter a bunch of team records during his basketball career. When the 76ers won the NBA title in 1967, they also set a record of 68 wins. When the Lakers won the NBA title in 1972, they crushed the record with 69 wins as well as a 33-game streak.
4. Bill Russell
Teams: Sacramento Kings, Seattle SuperSonics, Celtics (head coach 1987 - 1988, 1973 - 1977, 1966 - 1969), Boston Celtics (1956 - 1969)
With 11 NBA titles, an Olympic gold medal, and back-to-back NCAA titles, Russell has an unbelievable track record when it comes to team success. Individually Russell was a savant. Although he was never a sensational scorer, he was an incredible offensive player. There's only a handful of players that can pass the ball like Russell and was the first player to transform the dunk into a deadly weapon. In fact, his shot-blocking managed to revolutionize how NBA teams play defense, turning the act into a physically and psychologically destructive art form.
3. Magic Johnson
Teams: Los Angeles Lakers (1996, 1979 - 1991; head coach 1994)
Larry Bird and Earvin Johnson - first hated rivals and then great friends - did more for the NBA than any other pair of players to bring it into the modern era we all love today. As the Showtime Lakers leader, Johnson managed to win 5 championships, 1 NCAA championship, and an Olympic gold medal, becoming the cheerful face of the league for most. His sensational passing impressed NBA fans and now he's attempting to introduce a brand-new Laker generation as team president.
2. LeBron James
Teams: Cavaliers (2014 - Present), Miami Heat (2010 - 2014), Cleveland Cavaliers (2003 - 2010)
Lebron changed the basketball prodigy paradigm and there hasn't been anyone like him since. The list of his basketball accomplishments after entering the league is world-renowned as he continues to refine his legacy and write his own story. In 2019, Lebron James should be the first player in NBA history to be listed in the top 10 of all time in both assists and points. He also stands a chance to enter the top 50 of all time when it comes to total rebounds as well. In the NBA playoffs, James is already third in assists, second in steals, and all-time leader in scoring. As one of the world's best players, it's easy to understand why betting on live sports has become so immensely popular.
1. Michael Jordan
Teams: Washington Wizard (2001 - 2003), Chicago Bulls (1995 - 1998, 1984 - 1993)
Jordan transformed the substance and style of basketball, expanding the meaning and scope of athletic achievement. His vast range of achievements includes 6 NBA championships, 14 MVP awards, 14 All-Star games, and winning 10 scoring titles. However, for all his clutch shots, fresh kicks, and huge dunks, Michael's biggest impact took place off the court by empowering athletes to gain full economic participation through the billions produced by their labour. It all started with Air Jordan sneakers, leading to his very own Jordan brand and buying majority control over the Hornets.