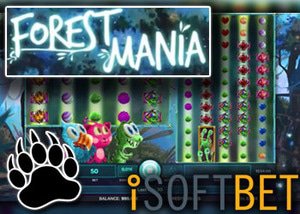 In celebration of the Forest Mania slot launch, two brand new network promotions will kick off at 00:01 on the 24th of February and run until 23:59 on the 1st of March 2017.
Two major competitions run at the same time and include the Raffle Mania as well as the Race Mania, and both is played on the Forest Mania video slot just released by iSoftbet.
Participate in this latest casino promo! Ensure your name is listed under the top 60 on the leaderboard and enjoy great prizes part of the staggering 4K-prize pot. The prize split offers the top 10 players determined by the highest number of points a win valued at €150 each, players qualifying in the 11th up to the 20th positions each receives a prize worth €80 and players in the 21st up to the 30th positions each win €70.
Winners are announced weekly, and at the end of each promotional week, the top 60 player names will be listed on the leaderboard. Participation in the raffle draw will not be available to the 30 winners of racing mania.
Forest Mania's Raffle Mania
The raffle draw adds further excitement and will be conducted in a raffle containing the names of the 25 players who collected the highest number of turnover based points. Five players will be randomly selected, and each will win a prize worth €200. The minimum wagering required is €10 in the raffle draw and participants will be included in the top 25, participants can search their position by entering their username on the search bar since the leaderboard will only display the top 25 names. The leaderboard will be updated on a daily basis and to ensure your name features, remember that every €10 wagered rewards one point.
iSoftbet's Forest Mania
Forest Mania offers a delightful gaming experience across 20 fixed paylines while the 80 fixed payline dual slot offers a payout worth 25,000 coins. Created by iSoftbet the game charms with excellent animation, outstanding audio effects and a fabulous collection of bonus features consisting of wild symbols, wild reels, and free spins.
The wild blue parrot represents the wild symbol, and one point is awarded for every time the feature is triggered. The crazy bright pink cat triggers the wild reels and with up to three reels on the first set could become wild, while players are rewarded two points each time it triggers. Mr. Krokko activates the free spins bonus round and triggering this bonus round awards 5 points.
Visit RedSlots Casino now to take part in this fun promotion! Forest Mania makes winning easy, should the blue parrot wild feature trigger 10 times participants earn 10 points. Triggering the Krokko free spins feature 5 times awards 25 points, and the wild reels feature rewards 2 points every time it's activated.