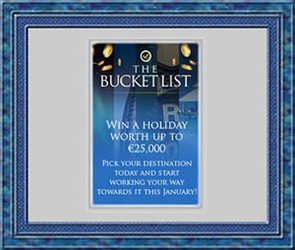 Five different experiences are up for grabs that you can choose from to mark off of your bucket list if you're a lucky winner right now at 7Sultans Casino.
While it's often used as a figure of speech instead of a concrete thing, a lot of people have experiences on their "bucket list" of things they want to see, do or accomplish before they "kick the bucket." With 7Sultans Casino's new promotion, you'll have a chance to mark a €25,000 experience off of that list. They have five different options to choose from for lucky players who come out on top in this promotion, and it's easy to get in on the action to have a chance to win.
Here's how it works. You start off by going to the 7Sultans Casino page for the promotion inside of the casino software, and you choose which of the five prize packages you want to compete for by clicking the "Pick Me" button. After you do this, all of your wagers until the end of the promotional period will be added up to determine how many entries you get into the grand prize drawing. The more you play, the better your chances of winning. This promotional period runs through February 9, so you'll have plenty of time to accumulate entries.
7Sultans Casino has a lot of cool stuff going on all the time, and while this hot promotion is a great example, it's no the only thing they have happening. They are a part of the International Slots League for example, and five figures are given away each week to players who take part in this league. It's a great way to have something to play for while you accumulate entries into the Bucket List promotion drawings, and it'll give you plenty of time to enjoy your favorites while you shoot for big jackpots and winning streaks in their selection of tons of slots.
If you're a table games fan then don't get discouraged because table games play counts towards the bucket list entries as well. Overall, this is a very inclusive promotion that gives all players something great to shoot for.