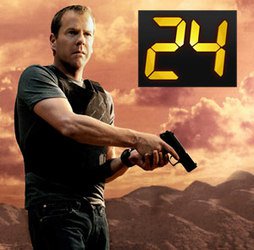 iSoftBet is partnering with Twentieth Century Fox Consumer Products to recreate the action packed and famous "24" TV show into a successful online video slots game.
The new branded game will be a hit among fans of the popular TV show starring Keifer Sutherland as Jack Bauer. The new slots game can be described as an entertaining surge of adrenaline with rich graphics and major bonuses.
Michael Doyle, the Vice President of Interactive Games at Fox Consumer Products, is looking forward to the recreating the TV show in online video slot format and in turn expanding the "24" franchise.
"This unique partnership with iSoftBet has resulted in an action-packed game recognizable to fans around the world featuring the twists and turns that kept viewers on the edge of their seats from week to week while watching "24". People will now have the opportunity to engage with the show in a new way as they await the show's highly anticipated return this May with 24: LIVE ANOTHER DAY." - Michael Doyle.
The new slot game announcement is hitting the online gaming community as the filming begins for the upcoming 24: LIVE ANOTHER DAY. The 12 episode miniseries has been long awaited by fans. The filming of the miniseries is taking place in London, which is also the home of online software developer iSoftBet. The new "24" slot will be an extension of the TV series with highly integrated themes and a showcase of state-of-the-art audio effects and visual elements.
Luci Apostolou, Sales Manager at iSoftBet as been quoted as saying: "iSoftBet's branded games collection has grown immensely over the past 12 months, and with the addition of such a well loved and reputable tite as "24", our portfolio is stronger than ever. The TV series "24" and agent Bauer are hugely popular all over the world, and we are sure our customers will be blown away by the innovative content and features of this thrilling new slot."
24: LIVE ANOTHER DAY premiers with a special two-hour show on Monday, May 5th at 8pm ET. The show will continue to air on Monday evenings at 9pm ET.